SES New York 2012 Archives - Bruce Clay, Inc. Blog
March 26, 2012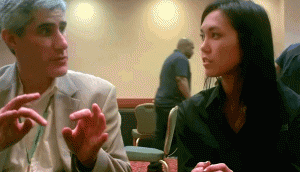 Those responsible for an online businesses content strategy should be aware of recent changes to Google's ranking algorithm when assessing content needs of a website. The Google update referred to as Venice places an emphasis on location-based, or geo-targeted, content relevance. Queries that suggest location is an important factor now receive local-specific results where before they were only returned when local intent was explicit.
The critical role of content that meets search engines' automated qualifications and leads human visitors to convert is a coveted intersection that sets apart successful businesses from the competition. It's why at Bruce Clay, Inc. content, both on-site and off-site, is a priority within our holistic SEO strategy and is among the top services we offer, including those for local business SEO.
Read more of How to Optimize Content for a Local Market: Interview at SES NY
---
March 23, 2012

The first conference of the year for Search Engine Strategies was held in New York this week. From the ideas shared to the conversations had to the networking and more, we experienced another great event from SES. Up next for SES here in the United States is the San Francisco conference in August. Until then, here's a recap of some of the takeaways we gathered from our liveblog coverage of the show.
Read more of Top Takeaways from Search Engine Strategies NYC.
---
March 22, 2012
From an audience poll Simon leads, half the audience seems to be in-house and half is from an agency. A good number of in-housers are the only person in their department. Jennifer specializes in placing SEM pros both agency and client side. The talent needed from one year to the next changes as quickly as the industry itself. There are clear benefits to both agency and in-house, and depending on your business model there's an answer. If you decide in-house is the answer, how do you find the right SEO talent – those are the questions she's here to answer. Mitch and Ulrich introduce themselves as well.
Simon's wondering about how to find the right skillsets and what to look for in a junior level SEO. Jennifer says you need to have someone who would come out of a web development background. You need to know your way around a website. Someone who did that in college, is blogging. Look at the person as a whole, have they used programming languages, someone with basic technical knowledge can learn the organic piece.
Read more of Agency vs. In-House SEO: What's a Client To Do?
---
The Lords of the Links will lead this free-form panel. Content marketing, infographics, SMM, social media amplification, SEO: a lot of what we do with off-site marketing has the goal of link building. Links are going to stick with your site and influence your site's performance for years to come.
Loren asks how do we build links today in this climate. Dixon says the same way we built links before the Internet – relationships. Breakfast meetings, making connections. Google is trying to get back to the idea of a relationship behind a link. It's a basic business logic that there's a relationship behind a link. Move toward traditional "knowing each other".
Read more of Lord of the Links.
---
We start with introductions along with panelists' views on integrated marketing.
@giorodriguez: Integrated marketing is the rise of the connected consumer. Marketing has become more strategic, in large part because of the access to data.
@brendafiala: Strategy group in North America – for her integrated marketing is about the platform being the ecosystem, rather than the website. They activate the ecosystem – what's the global brand and how is it touched across the world. She's been in all verticals and worked across the globe.
@larsfeely: At Ogilvy leads Caesars Entertainment and UFC. IMC to him is about performance, whenever marketers look at a silo, they're missing out. Traditional buys and social aspect need to be looked at along with SEO and PPC. Integrated marketing is about getting to the success market for whatever vertical you're in.
@huffmanme: Brand building integrated communication – an internal consulting group, helps think through strategy and execution of communication. P&G is in the biz of building brand that's purpose inspired and benefit driven. They bring this to life with big ideas grounded in the human experience, then amplified with various touch points that build awareness and advocacy. It's not just "matching luggage" – the same visual everywhere.
Read more of SESNY 2012 Keynote: Integrated Marketing — What Does That Really Mean?
---
March 21, 2012
Got me 1 hour left battery time. Let's see if we make it. Lively group here at the end of the second day of the conference. The expo hall is now closed, so I think all the attendees are finding a session to entertain themselves. This one promises to deliver. Richard says he can't recall how often SEO is declared dead. Now everyone talks about the rumor that Google is looking for sites actively SEO'd and whack them.
Read more of SEO is Dead. Long Live SEO! SESNY 2012
---
This is the fullest session I've attended yet. The SES NY audience must be interested in the technical SEO track. Jessica Bowman is our presenter. There are several phases of dev life cycle. If you're going through a redesign/redevelopment project you'll have to go through these phases.
Read more of SEO and Website Migrations: How to Have a Smooth Transition.
---
SearchBash last night was a blast! Thanks to WebmasterRadio for another one for the books! If the party was conference candy, now it's time to get back to the meat. Chi-Chao Chang takes the podium to talk about the opportunity of advertising in mobile search. Although browsers are the primary access point today, applications are growing in importance and usage.
Browsers vs. applications: is there really a difference in search experience?
Browser takes
10 seconds to load
15 seconds to find results
7 seconds to details page
Application takes
1 second to load
5 seconds to find results
<1 second to details page
Read more of Local + Social: The Future of Promotion
---
March 20, 2012
Andrew Beckman is at the podium as I walk in 5 minutes late! I wasn't slacking – just getting an interview for SEM Synergy. :) Jumping in!
Citation value:
PageRank of sub-domain of citation
Content and keyword density on the page
Backlinks to the page
Frequency of crawl on the sub-URL where citation exists
Mythbust: The speed of the citation update doesn't necessarily mean you're going to rank higher. There are services that make you pay a premium to get data online faster. But that doesn't account for the time it'll take for the bot to come. Don't fall for this.
Read more of Local Myth Busters: Local Optimization Facts Proven or Debunked.
---
Links of London, a jewelry brand has stores in USA, Canada, Europe, Japan. Their iconic products are the Sweetie and the Friendship bracelet, and have given the most problems and the most success. Counterfeiters have tried to capitalize on the brand. A luxury goods study shows that counterfeit sellers divert 120 million annual visits from brands, equivalent to 47% of traffic to a brands' core e-commerce sites. 1100+ sites contain a luxury brand name in the domain name (cybersquatting).
How does this relate to search?
Traffic lured to rogue sites via paid search campaigns:
increase cost of branded search terms
negative impact to overall e-commerce success
decrease in customer confidence for the brand
Read more of Protecting High-Value Branded Search Terms – SESNY
---