SEO Consulting Services
---
This is what you need to know about SEO consulting in 2020.
Look, search marketing has changed…and it's changing faster than ever.
Going forward, counting keywords just won't be enough to build a sustainable search marketing program anymore.
In fact, according to Moz, Google made 180 major changes to its core algorithms that affect search since 2000.
So the question becomes:
How do you keep up? What does ethical SEO mean in 2020?
---
SECTION 1:
"Sustainable" is the New "Ethical" SEO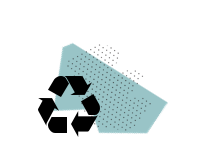 Sustainable SEO means strategies that grow your traffic safely and reliably over time.
Fact is, if you want sustainable SEO, you need two things:
FIRST, it's got to be white hat, NOT black hat.
Here's the thing, sometimes, people call me the CEO of SEO: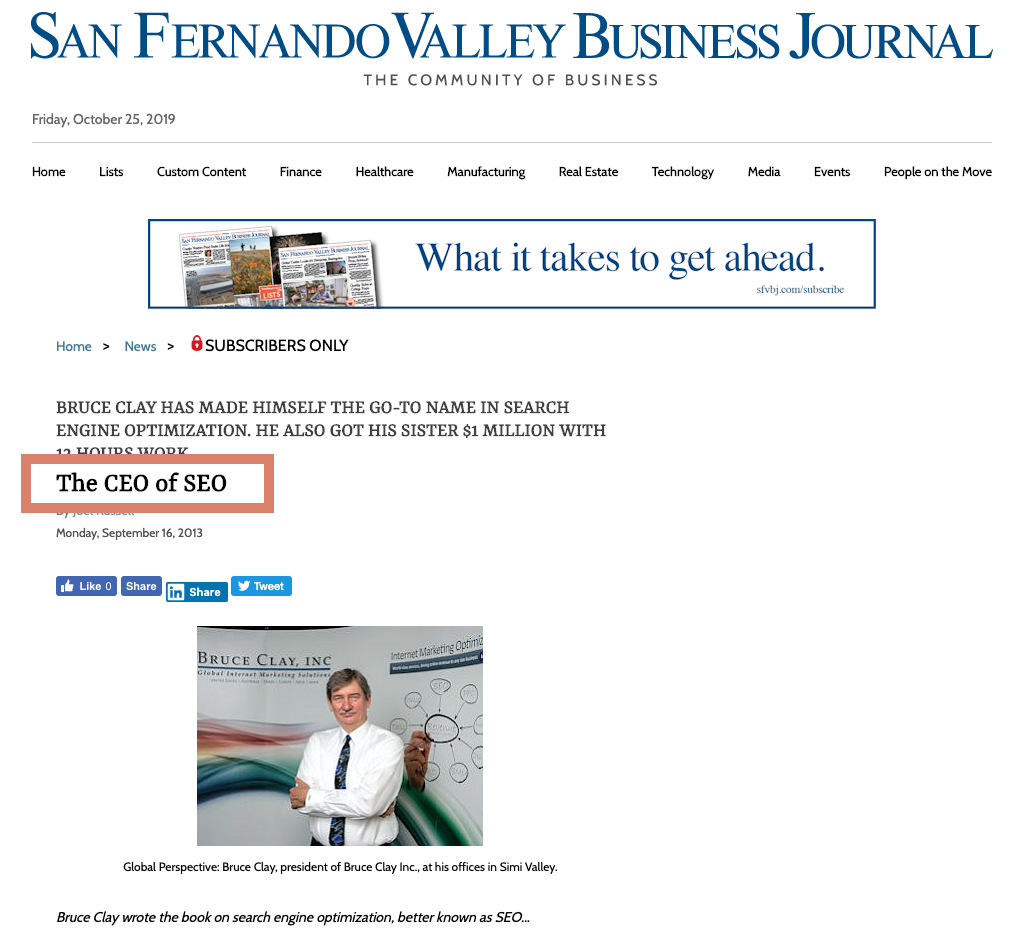 And then other people call me the Father of SEO…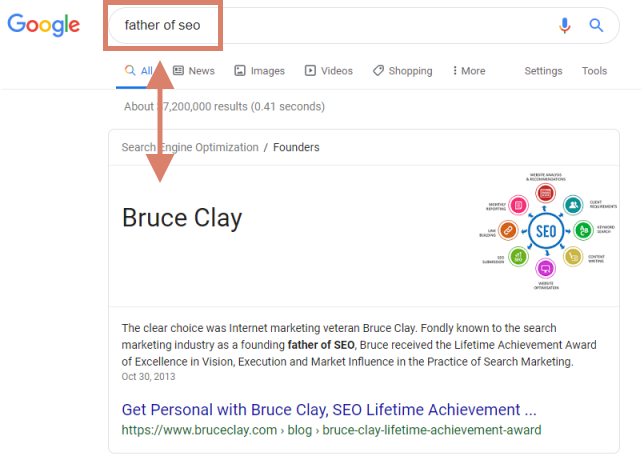 …and that's because I was here from the very beginning.
Now, I'm not saying I coined the term SEO–it was a long time ago–but when someone asked Danny Sullivan, founder of Search Engine Land and Google Public Search Liaison, this is what he said: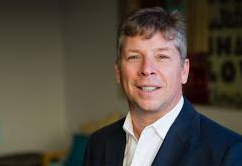 "there's a very good chance that I drew my description from an email Bruce may have sent me about the page, so certainly making him one of the first to be popularizing it."
If you can imagine, when I founded Bruce Clay, Inc. at the very beginning of 1996, Google didn't even exist!


At the time, I was eager to build something that lasted, a true legacy.
It quickly became clear that if I wanted a sustainable SEO consulting business, I absolutely had to stay away from stuff that search engines didn't like, e.g., keyword stuffing, doorway pages, and link farms…
We call techniques like these "black hat."
They don't give searchers a good experience and they're designed to trick search engines.
I wanted no part of it.
This is the point where I introduced the SEO Code of Ethics: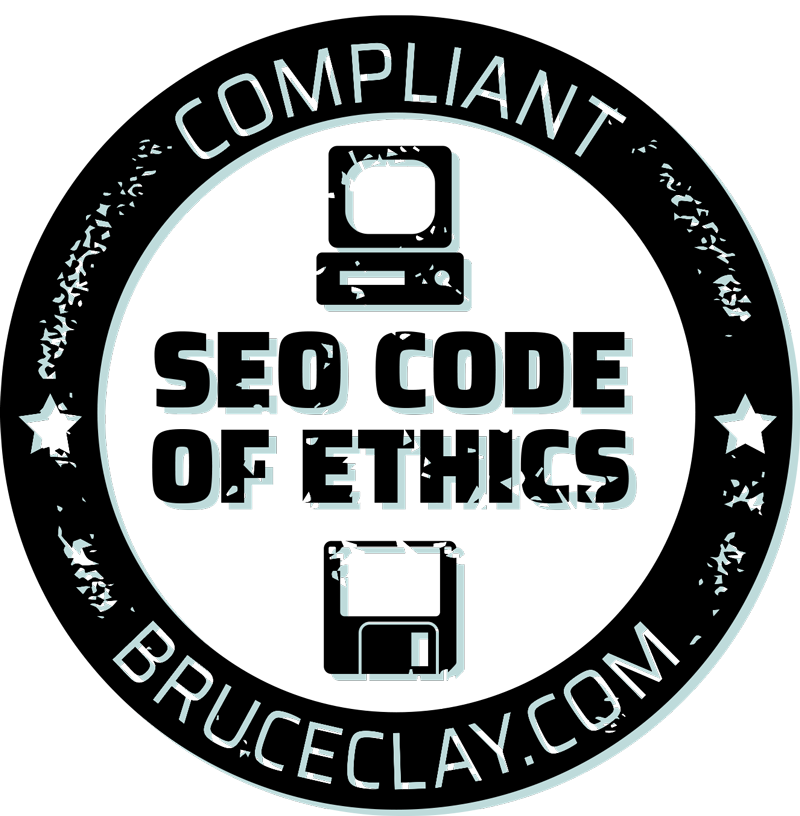 There are, unfortunately, a lot of charlatans in the SEO biz…
…and I've never regretted drawing a bright white line between them and me.
SECOND, your SEO consulting has to adapt to the changing search landscape.
To be honest, SEO didn't move nearly as fast in 1997 as it does today.
And yet, it was only 4 years after Bruce Clay, Inc. was founded that Alta Vista folded: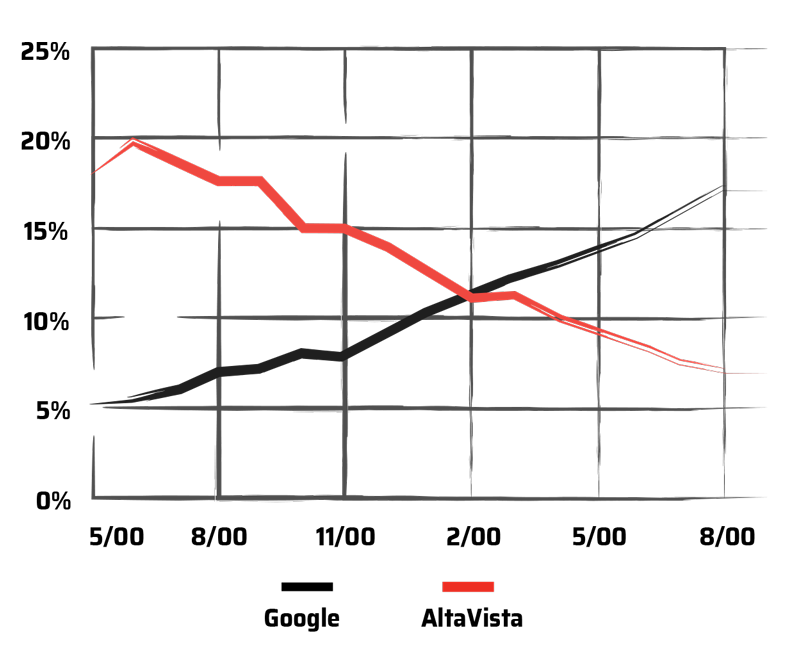 Since Google, the pace has only accelerated.
Picture this: If you printed out the entire list of Google algorithm changes since 2000 it would be over 20 feet long.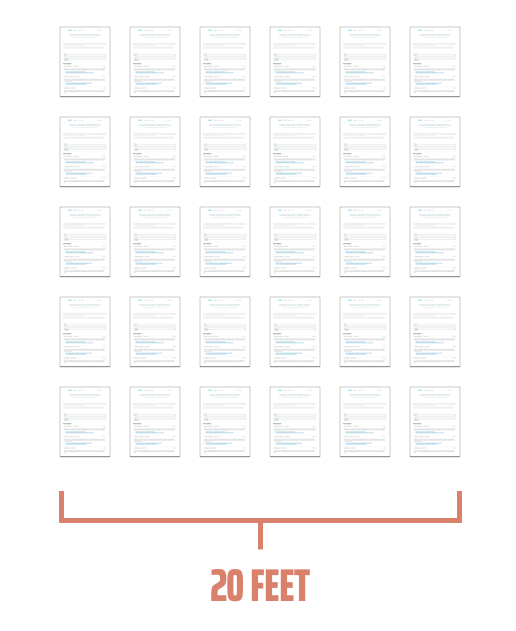 …in fact, there were another 3,234 minor updates that affected Google search last year alone!
By now you'll have realized that keeping up with algorithm updates is a full time job. 😎
SECTION 2:
Sustainable SEO = Real Results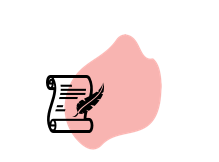 I know, talking about ethical SEO can sound preachy.
It's all well and good to do the right thing for its own sake.
But the reality is, if you're not getting results, one of two things is going to happen:
1. You'll go out of business.
2. You'll find yourself a new SEO consultant.
Good news:
Sustainable SEO is the kind of SEO that gets authentic results.
When you buy links or sign up to join a PBN, you're going to get AMAZING results.
Right up until Google catches on. And they always do.
Sooner or later (usually sooner!) Google is going to throw a penalty on you…
…and all those results will be lost — and then some.
When that happens, I sometimes get called in to clean up the mess, like with this industrial equipment supplier:

But that's the problem with black hat SEO. It's 2 steps forward and 2 steps back.
And that's if you're lucky.
At the end of the day, what you're looking for is consistent growth:
More traffic
More conversions
Higher ROI
Lower CAC
Improving these metrics is what my team has done over and over better than anyone in the business. That's why we're still here.
As you'd expect, I've seen it all. I've worked with a who's who of the Fortune 500 and name brands like the ones pictured:


What people say that they love about us is our staff experience.
We have consultants who've been working out of our Los Angeles office for 15 years. Even when we need to grow and recruit staff, we require minimum experience of 10 years. (By the way, we're hiring!)
To be honest, I have the most experienced staff in the industry: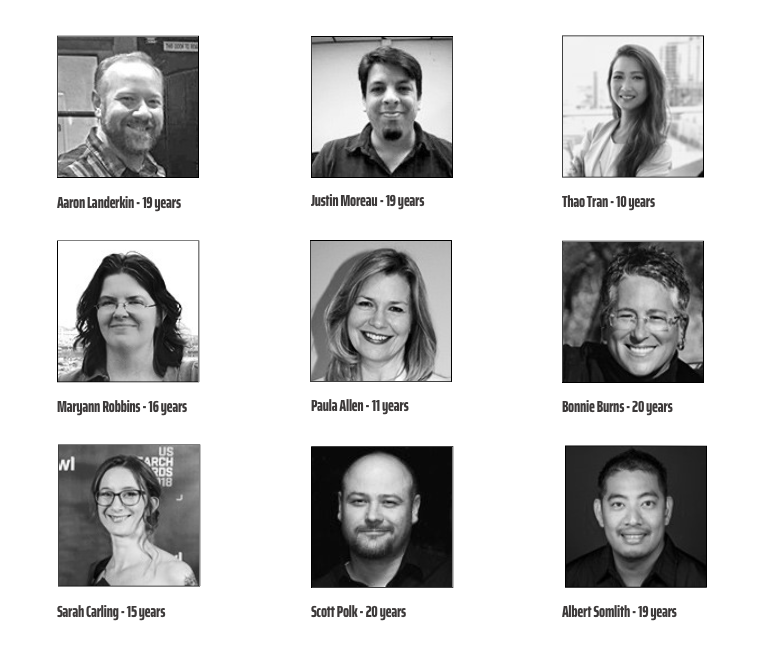 Go ahead: Try to find another large SEO consulting agency with average staff experience >10 years.
That's why Gary Illyes, House Elf and Chief of Sunshine and Happiness at Google, said: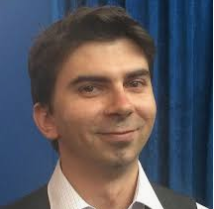 "There are things that, as a site owner or a content owner, you can do without an SEO. I don't say that drop all SEOs, because SEOs can do also magic. I know some of the sites that you are working with, for example, and I know that they're doing amazing. There's also Bruce Clay, for example, who has a great team. There are SEO companies who are really, really good."
Thanks, Mr. Illyes!
I'd love to tell you about the homeruns my staff and I have hit with all of these companies.
The thing is, at least in the U.S. market, big brands are really leery about letting you publicize their numbers.
Believe me, I've tried.
While we do publish case studies, the reality is that big U.S. companies see us as their special sauce, almost a trade secret.
The good news is, we have offices around the world:


And we use my exact same Bruce Clay system and method everywhere.
In fact, I personally visit every office yearly for training and quality assurance.
The great thing is, some of these other markets don't mind showing off how we helped them.
For instance, there was the time we helped one well-known brand: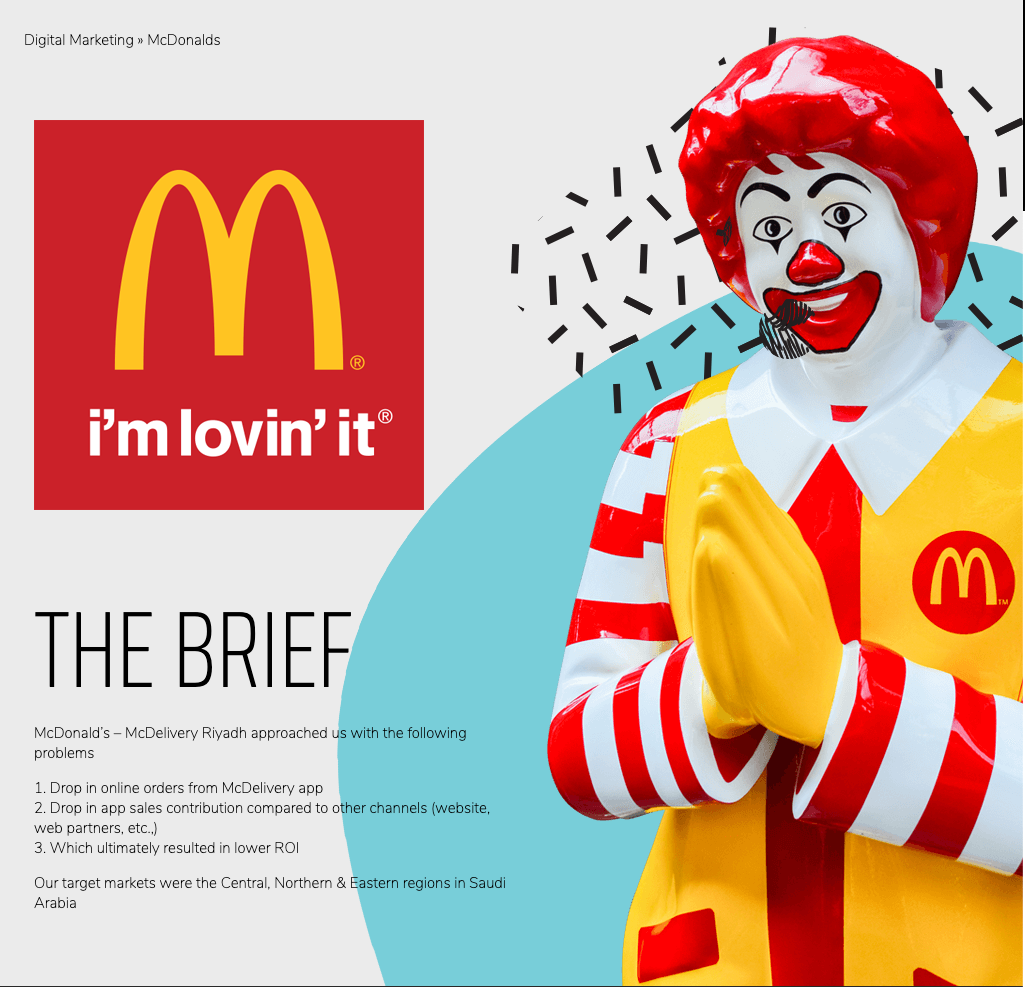 …grow their monthly revenue by $27,000: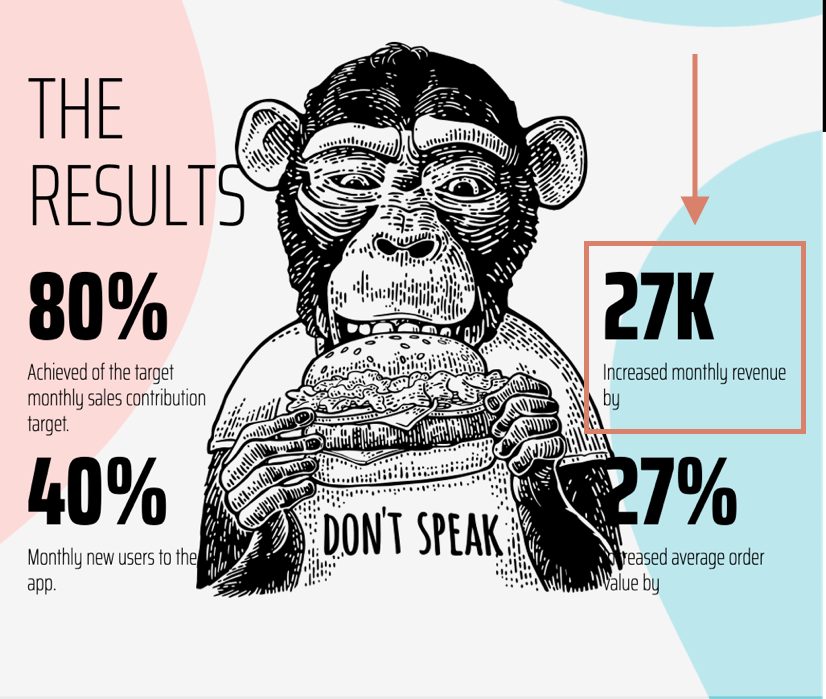 …or the time we helped another moderately well-known international brand: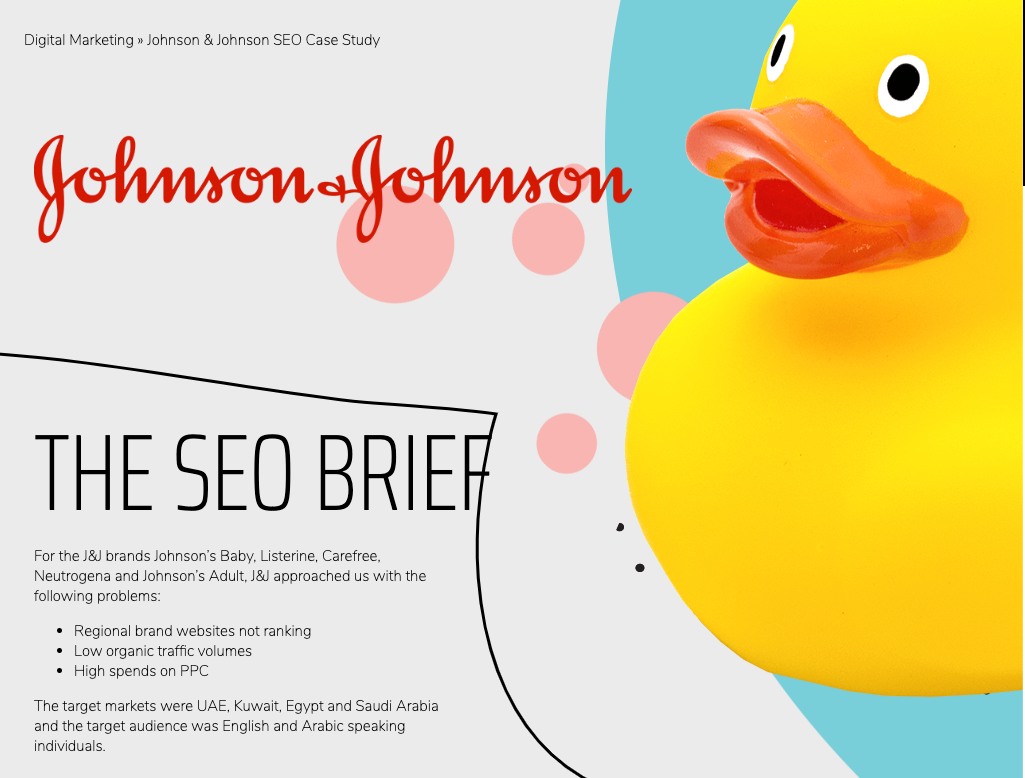 …boost 82% of their keywords onto the first page of Google: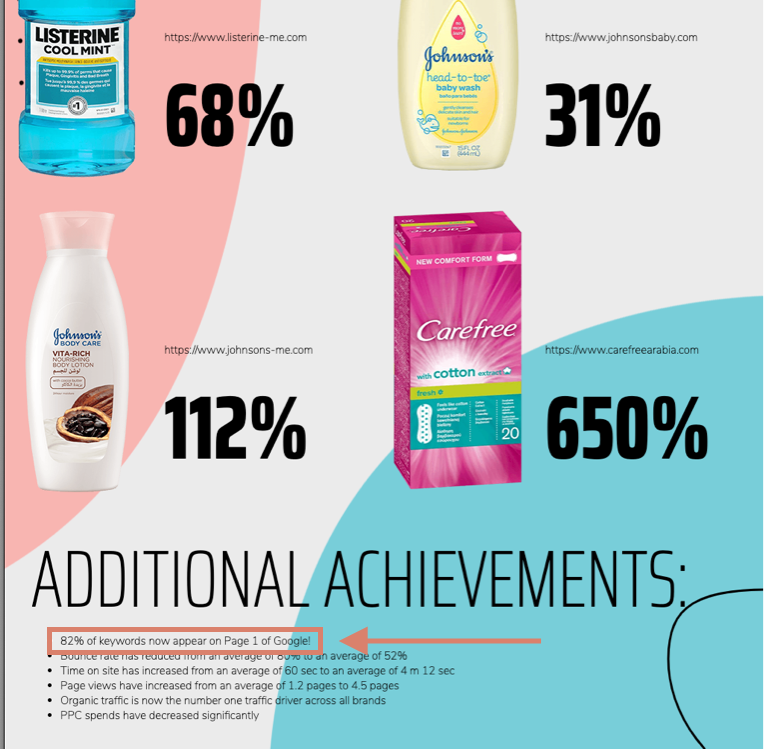 Don't get me wrong though. We work with a lot of brands of all sizes.
In short, I'm addicted to getting results for clients.
You might be wondering, though.
What do I actually DO to help my clients skyrocket results?
Let's take a closer look:
SECTION 3:
Examples of SEO Consulting Projects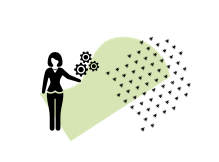 Over the years we've worked on every project under the sun.
Ever wondered why folks come to me for huge projects with lots of moving parts?
Because I've already done it. 🙂
Here's what we've done and what we do every day:
…propel rankings:
Move rankings currently on page 2 or 3 to page 1
Acquire competitive keyword market share
Improve mobile rankings to mirror desktop rankings
Increase rankings for non-brand keywords
Speed up page-load time for rankings gains
The simple truth is…
…most people want to work with me because I can get them better rankings.
And what have they seen?
Well, although clients usually want to keep our relationship a secret, here's a recent case where we regained top-3 rankings in a highly competitive space…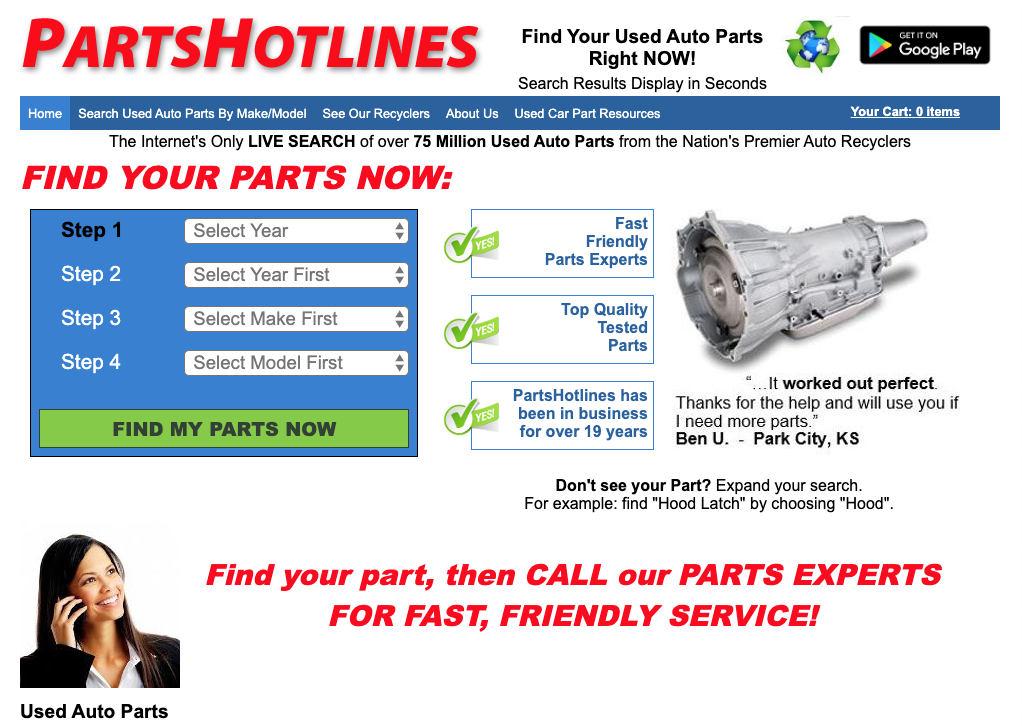 …which led to big traffic boosts every month.
This was despite rankings plummeting right up until I got involved.
…cut traffic costs:
Promote app adoption to reduce SEM media expense
Reduce SEM expense (paid search) by building SEO rankings for head terms
Balance paid search and earned search
We get it, paid traffic is expensive. And search engines like it that way.
But picture this: You replace some of that paid spend with SEO. And in a few months, the dividends from the free traffic outpace the paid.
Here's a glimpse of an internal spreadsheet I like to use to forecast and visualize rebalancing SEO and PPC traffic.
Over time, you want to be the orange SEO line, doing more with less.
Careful traffic modeling is part of how I bring science to the art of search marketing.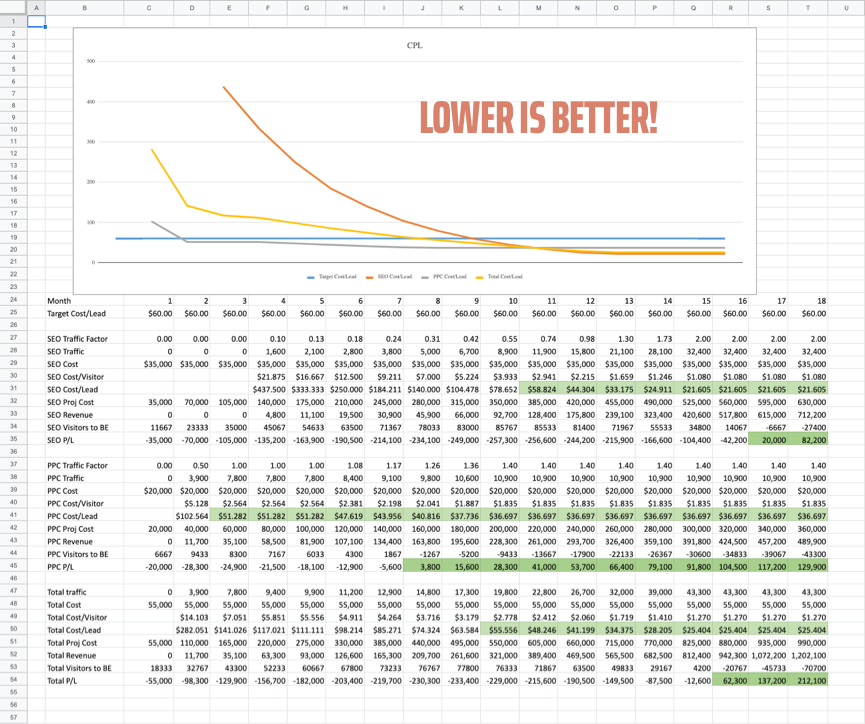 Now, the past few years there's been some hand-wringing in the marketing world over falling organic click-through rates.
According to SparkToro, clicks on organic results are down 10% in the last two years: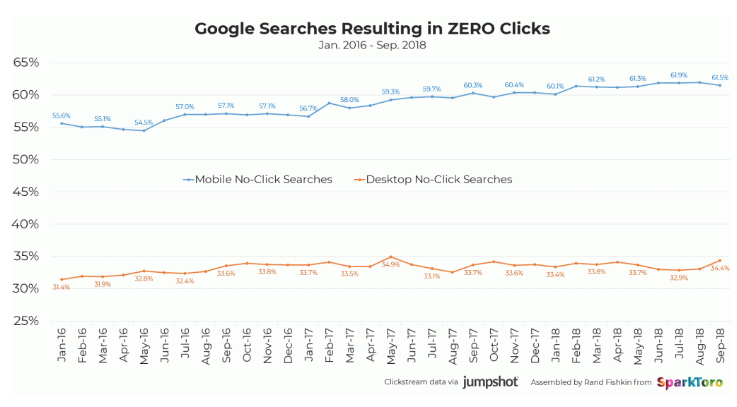 Why is that?
Well, take, for example, a search for "macadamia nuts." Search for that and you'll see a "knowledge panel" like below: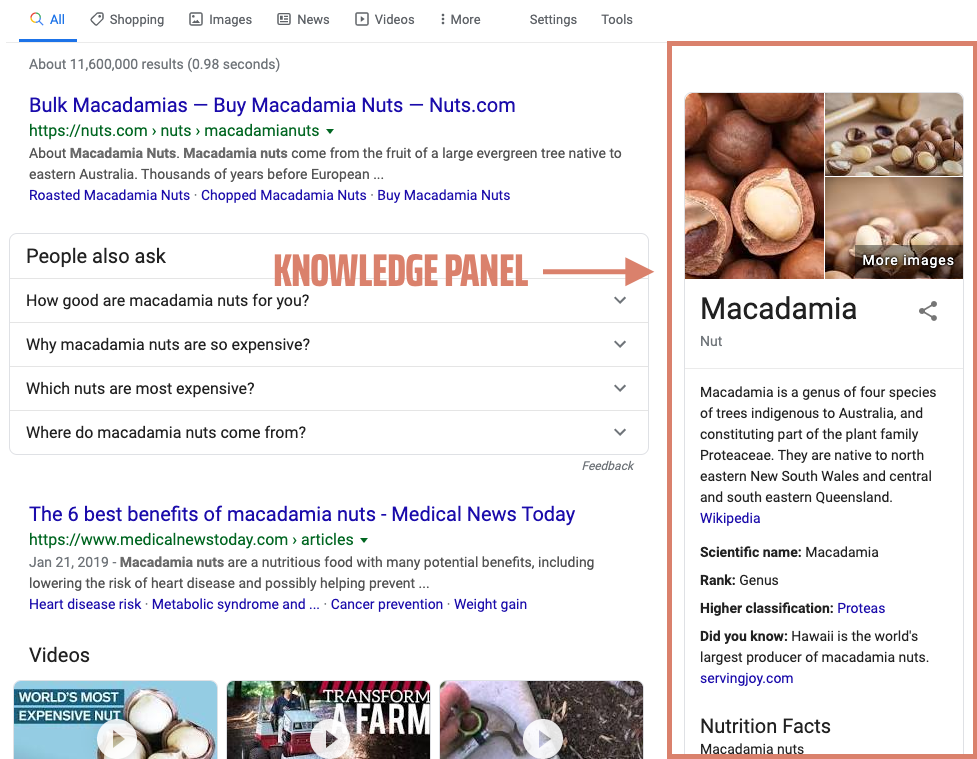 If a user ignores the regular results and instead clicks on the knowledge panel, that's called a "zero click" search.
However, don't fret!
Fact is, the clicks Google is "stealing" are low quality trivia clicks.
Think about it, no one is buying less Macadamia nuts because of trivia.
So, when it comes time for that customer to go searching for a delicious bottle of online Macadamia nuts….
…they're going to turn to high-trust organic search results.
…organize content:
Content consolidation
Content creation
Content gap analysis
Content development orchestration
Topical analysis
Every day, over 2.3 million new blog posts are published on WordPress.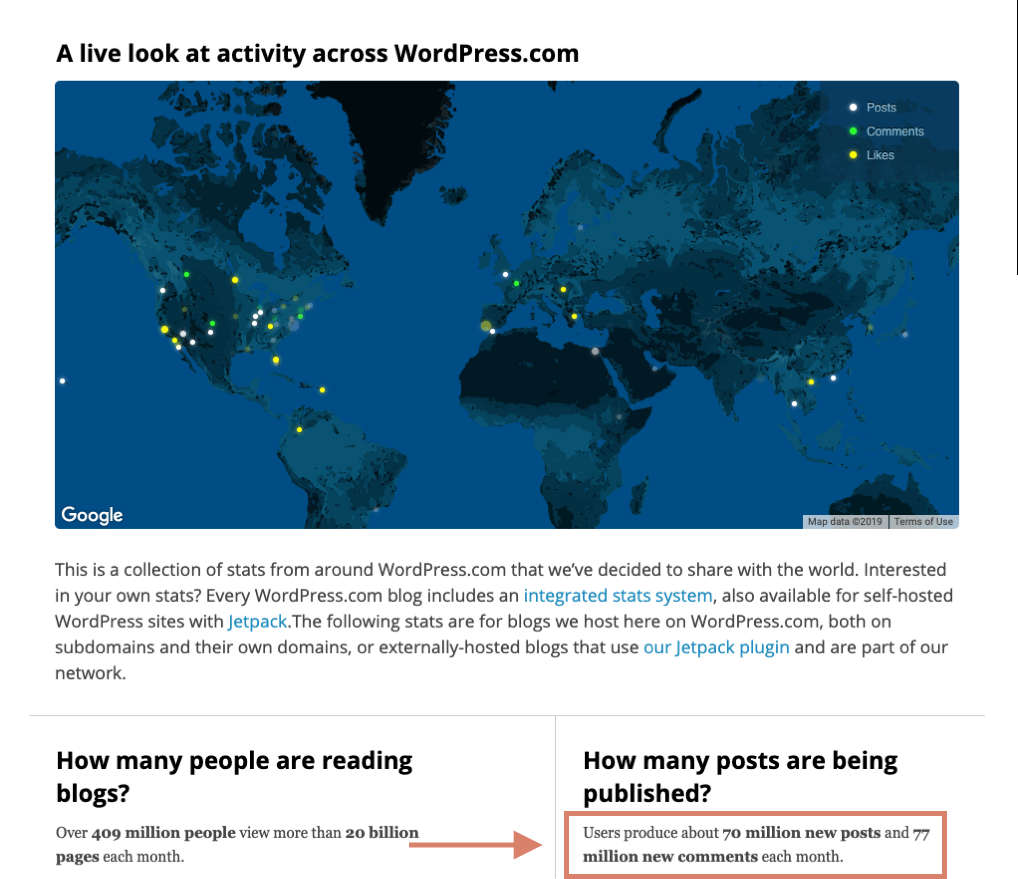 According to BuzzSumo, only 25% of new traffic draws a link.
So it takes a lot to stand out in the crowd.
What it boils down to is that your content strategy has to be intentional.
When it comes to content, there are four powerful strategies I like to use:
1. Pruning
2. Republishing
3. Filling gaps
4. Best page wins
Which tactics you use and what they look like vary from project to project.
But content is the bedrock of any long-term SEO strategy.
…supervise implementation:
Implementation consulting
Put in place Accelerated Mobile Pages (AMP)
Transition from HTTP to a secure website (HTTPS)
Implement a global or multilingual site architecture
Merge many domains and transfer link equity
Implement schema markup, JSON-LD and microdata
Site architecture
Internal linking strategy
Duplicate content fixing
XML sitemaps
Page speed recommendations
Semantic markup recommendations
Diagnose 404s and broken links and other crawl errors
Canonical tags
Not everyone knows this, but I studied computer science in college.
That's right, I'm a programmer at heart.
There's simply nothing I love better than breaking down complex systems and putting them back together again.
As a matter of fact, I wrote the first version of our SEOToolSet. In Perl!
And here's the thing, I never lost that itch.
I love to architect systems. Technical SEO implementations are my bread and butter.
Thinking about systems led me to invent the concept of siloing:


At the end of the day, computer science is mostly about graph data structures…
…and the link graph of the web is the ultimate graph, isn't it?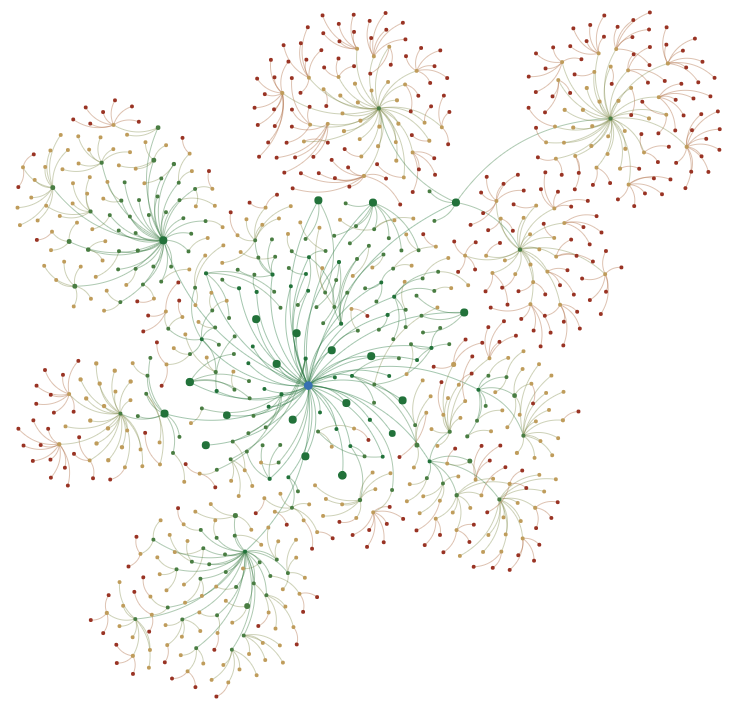 We help you organize the graph of your website so it's as easy for crawlers to understand as it is for users.
…audit redesigns:
Site redesign
Site redesign recovery
Redesigning your site is a risk…
…and an opportunity to make critical improvements you hadn't gotten around to before.
That said, if you've done a site redesign in the last couple months and lost 10-20% of your rankings, we won't take your business.
That's because you should expect a dip right after rolling out a major new design.
It takes Google a couple of months to catch up with all the changes.
On the other hand, if it's been OVER two months with sustained traffic loss, call us up.
Better yet, call us BEFORE you embark on a site redesign.
One client came to us after losing 30% of its traffic overnight due to a site redesign…and bad SEO consulting.


We fixed it:


…but it would have never been a problem if we'd been there to audit the redesign as it happened.
There are a million ways these things can go wrong.
…engage visitors:
Decrease bounce rate
Improve time-on-page (aka dwell time)
Improve serp CTR
Reduce pogosticking
No, this isn't some boring cliche.
Google literally measures how much users interact with your site and feeds that back into their rankings.
Research by SearchMetrics showed the average time-on-page for a top 10 Google result is 3 minutes and 10 seconds.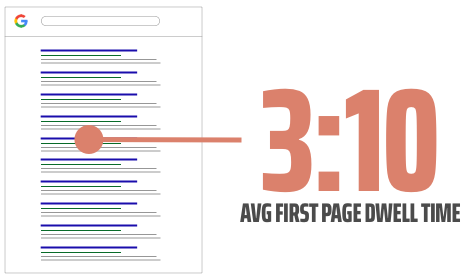 There are several highly actionable strategies to take advantage of this.
The upshot? Brands have more tools than ever to control their own destiny in the SERPs.
…safeguard brand:
Divest sub-brands from a parent website and establish new top-level domains
Rebrand a company, including establishing a new top-level domain
Associate external blogs with the parent site
Reputation management
I haven't told you everything.
After studying computer science, I went to business school.
So you better believe I know the importance of brand reputation.
Reputation is so important that once a business gets well known we often don't call it a business anymore…we call it a brand.
Protecting your brand is the same as protecting your profits.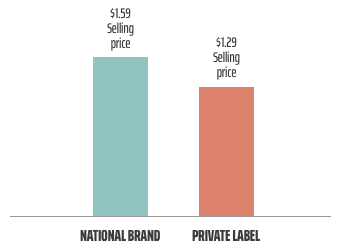 To be sure, my team and I have led a slew of SEO-related brand management campaigns.
We also help individuals manage their brands. But what do you call a person's brand?
Reputation.
In Europe they know how important personal brand is. In 2012 the EU ruled the Google must comply with orders to delink information about individuals upon request.


While we don't have that in the US, we do help people use every search engine feature possible to keep their reputations safe.
…recover from disasters:
Remove a ranking penalty or filter
Algorithm update protection
Beware:
If your business is largely based on the continuing success of your brand in search engines (as ours is!), a ranking penalty or powerful Google update can wreak havoc.
You may be surprised to know how much of our business comes from repairing lost rankings.
With Google releasing new updates daily, sites that can't adapt are being exposed: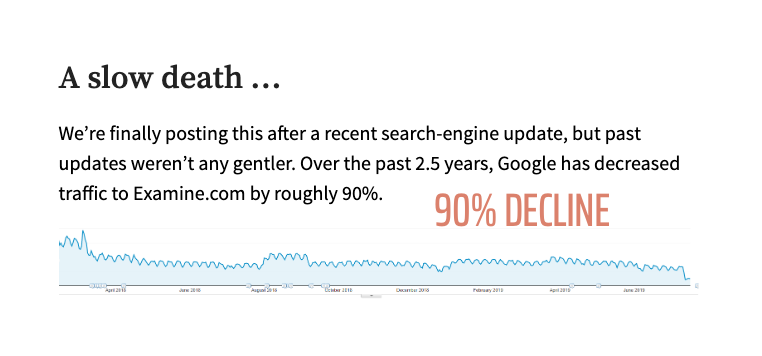 At the end of the day, after performing dozens of penalty lifts, we've got a rock solid formula for getting results back fast.
…dominate local:
Increase traffic from queries such as "keyword near me"
Maximize local traffic opportunities from mobile and Google My Business
Over the last few years, personalized results have shifted the dynamic of search.
With more and more searches being properly scoped to local businesses, it's absolutely crucial that you optimize your local presence.
Time after time, we see local SERPs ripe for the plucking.
I'm sure you've seen it:
You search for a local Indian restaurant…
…or maybe a business that builds backyard sheds…
And you can't find them!
You know they exist, but you just can't remember the name and Google searches turn up nothing.
Well, if it's happening to you, it's happening to a lot of your customers.
The trick is understanding what users are actually looking for.
Because the pay-off is huge.
And, oh by the way, in many cases we can automate much of the process by tapping into our network of strategic partners, like Yext.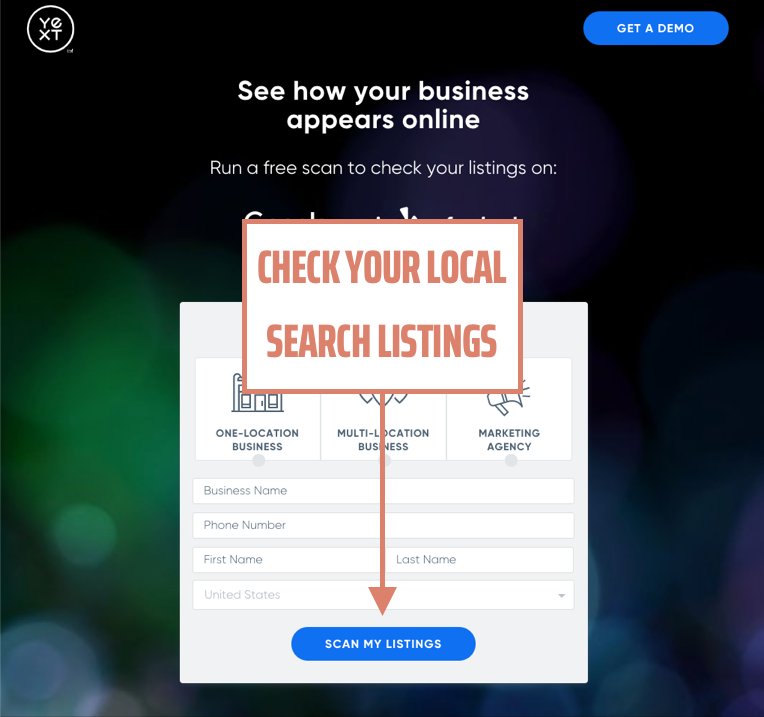 …optimize CMS:
WordPress
Magento
Woo
Shopfiy
Zencart
Drupal
DNN
There are as many content management systems as there are sites out there: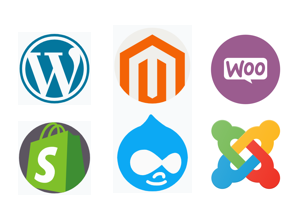 At least it seems that way!
We've seen them all and can work with anything.
Fact, though: WordPress dominates the CMS landscape these days.
That's why I put my head down and dreamt up the Bruce Clay WordPress Plugin for SEO. It's super handy for optimizing your SEO and WordPress use to the max.
But if you're not on WordPress, don't worry! We know how to tune any CMS for high performance.
…establish accountability:
SEO audit or assessment
Backlink audit
Analytics audit and configuration
Reporting
KPIs
One of the biggest problems we face in our SEO consulting work is lack of proper results measurement.
Like Peter Drucker famously said, what gets measured gets managed.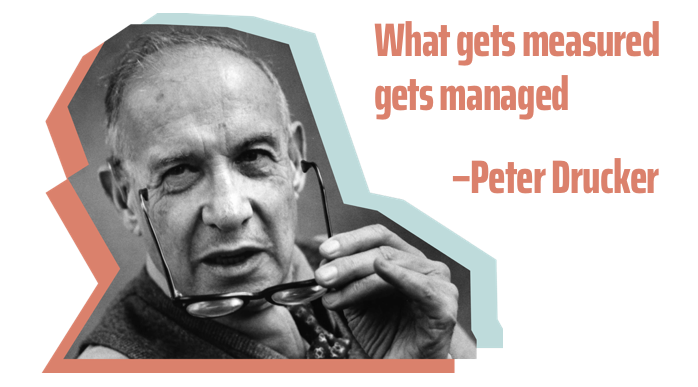 What it really comes down to is people are overwhelmed. There are just too many numbers. They don't know which to choose.
The fact is, for 90% of projects, there's really only a few metrics you need to pay attention to.
On the other hand, some projects break the mold. My team and I will help you sort out which is which.
…automate process:
Retainer
SEO best practices
Tools configuration
Establish internal SEO process
On-call troubleshooting
We are your trusted advisor and mentor.
Sometimes you just need an occasional helping hand.
Sometimes you want someone to teach you to fish.
Look, I cut my teeth in Silicon Valley. In SV, we knew that there are two areas critical to success: People and process.
Everyone knows we have the best people.
But we're also a great process company.
We've been refining our process for over 20 years, and it's a big part of why we stand out.
At Amazon, Jeff Bezos has a mental trick he uses to keep his company agile.
He calls it the "Day 1" philosophy. A start-up on its first day has the energy and creativity to take on the world.
The problem is that most companies grow slow and stiff over time.
But not Amazon. In 2017, Bezos wrote: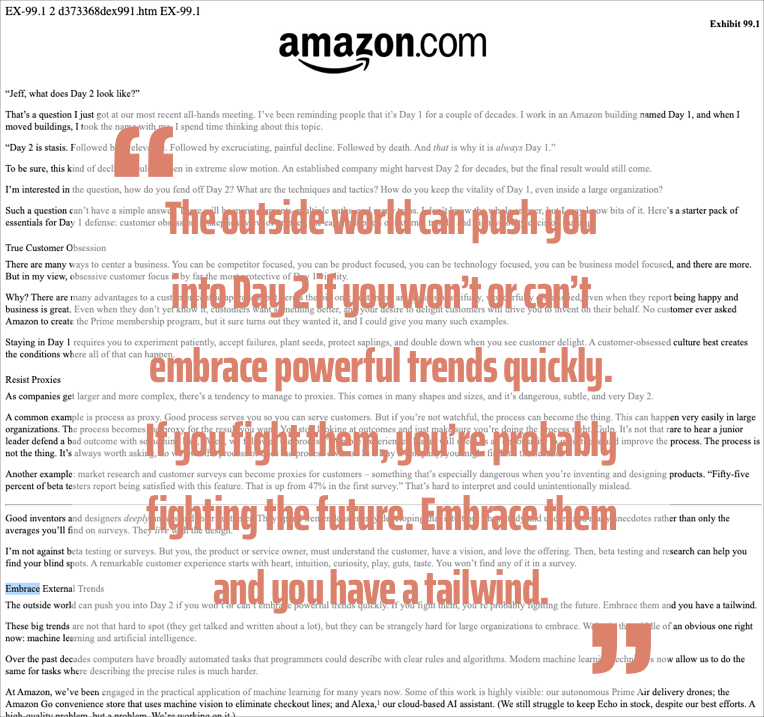 He gets it.
In search marketing, I like to say, "Every morning it's a new industry."
---
Now that you know a little about me and my team:
Are you the next success story?
Fill out the form below and I'll be in touch with you shortly.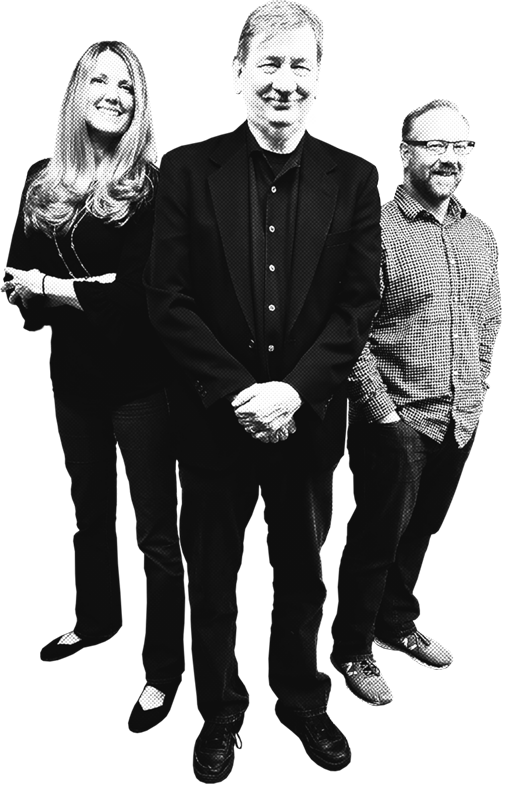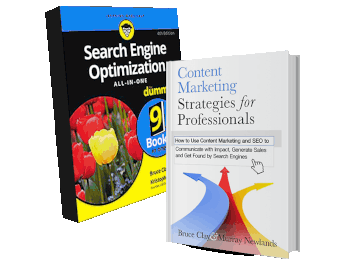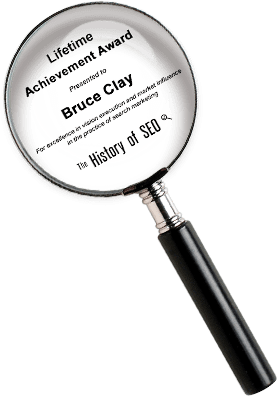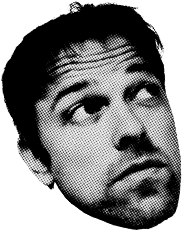 Serving North America based in the Los Angeles Metropolitan Area
Bruce Clay, Inc. | 2245 First St., Suite 101 | Simi Valley, CA 93065
Voice: 1-805-517-1900 | Toll Free: 1-866-517-1900 | Fax: 1-805-517-1919