The 3 Reasons an SEO Project Fails [On-Demand Webinar]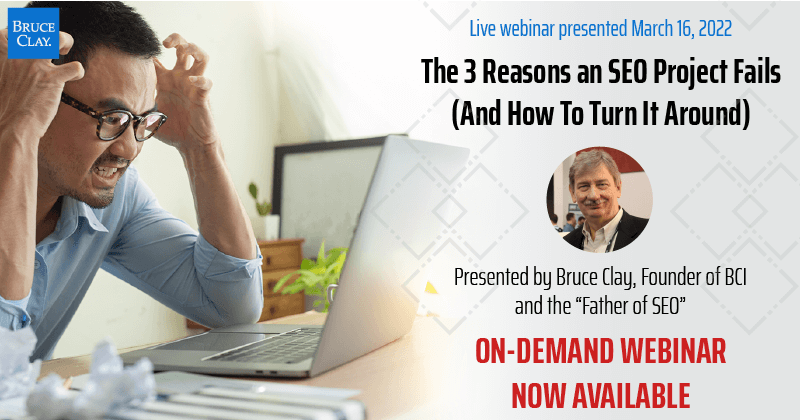 What causes SEO to fail? Bruce Clay has the answers to help you avert disaster and turn it around.
An SEO project can fail for many reasons — but it doesn't have to.
If you've asked yourself things like:
Why hasn't our site moved up in search rankings?
Why haven't changes been implemented timely? (Or at all?)
What can I do to ensure the next SEO project goes smoothly?
Then Bruce Clay's FREE webinar could save your campaign — and your business.
Fill out the following form to watch the on-demand webinar:



You'll learn:
How to identify problems in advance: CMOs, managers and others in your company need to know what to look out for that can derail SEO.
How to overcome common pitfalls: You'll discover what to do to keep SEO projects on target.
How to avert disaster: If your SEO project is already in trouble, you need to know how to turn things around.
How to manage an SEO project the right way: You'll learn three critical keys to help ensure SEO project success.