Google Archives - Page 2 of 22 - Bruce Clay, Inc. Blog
March 2, 2016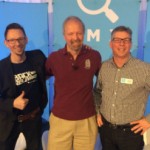 SEO is very tactical. We always try to look behind the curtain of Google's algorithms. So, it's no surprise that we all want to know more about RankBrain, Google's machine learning system that they confirmed out of the blue in October 2015 was "the third most important ranking signal" in their algorithm.
In this SMX West session, we'll learn about RankBrain based on studies done by the speakers: Marcus Tober of Searchmetrics and Eric Enge of Stone Temple Consulting. They'll present findings as well as the implications for SEO.
Read the liveblog to find out about RankBrain.
---
March 1, 2016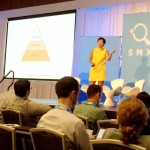 A favorite Googler and SMX presenter, Maile Ohye, senior developer programs engineer at Google Inc. (@maileohye), explains that in 2004 and 2005, Matt Cutts used to say that search engines are chasing the user. In other words, the engine wants to serve the user first and then everything else (rankings, results pages) follow. A problem occurs when when websites then chase the search engines.
An alternative view is when search engines and websites both chase the user, but this is oversimplified. Today she suggests a cultural shift to serving the customer, not the user.
Read about how that all plays out in real life in this liveblog SMX West coverage of Doing What Matters for SEO & Google in 2016.
---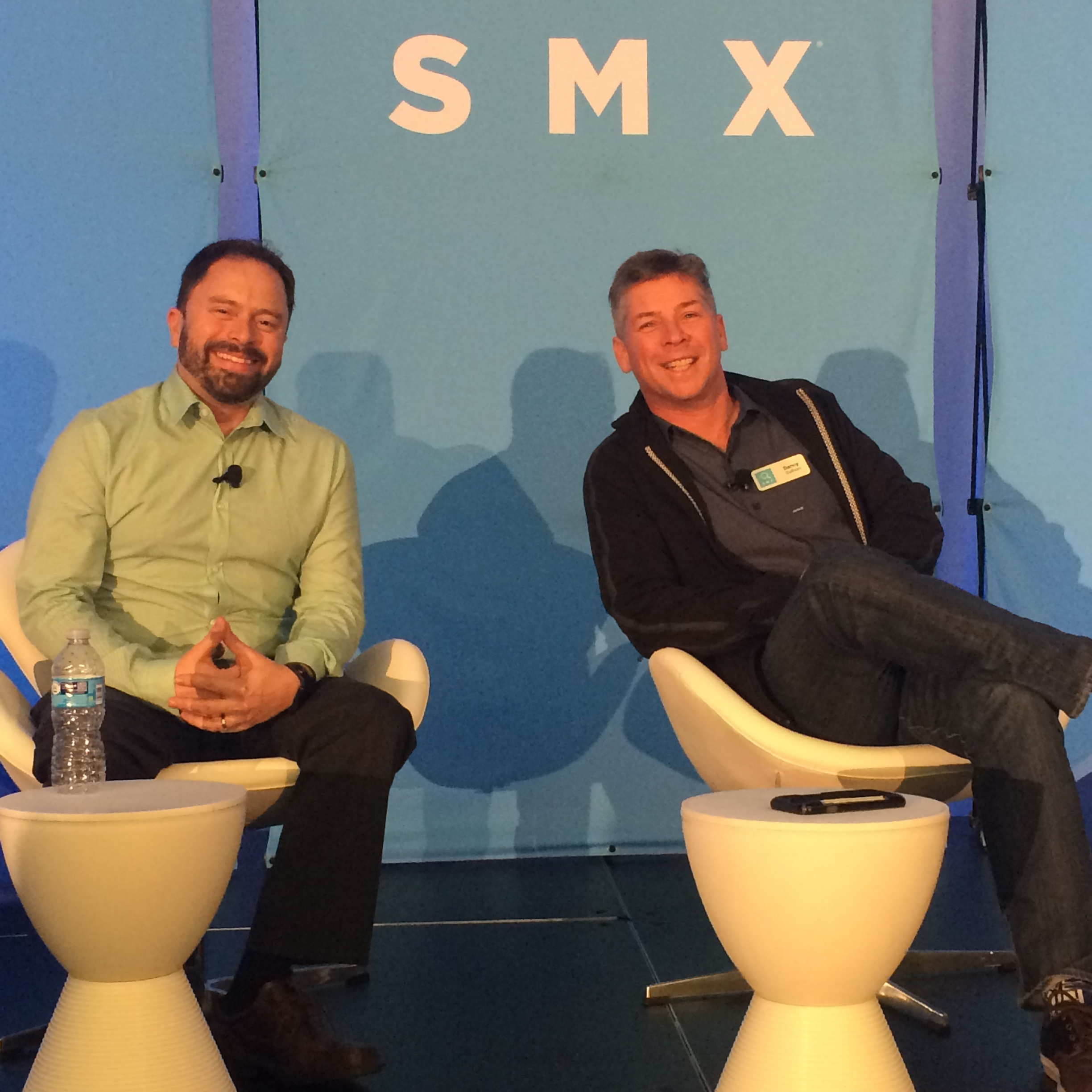 There are two kinds of actions that can come from Google — an automatic "action" where the algorithm makes a decision on how a page should rank, and a manual action. With a manual action, a human being at Google has come across a page and decided it needs to be addressed.
Juan Felipe Rincon from Google's manual actions team answers the SMX West 2016 audience's burning questions on manual actions in a live talk with Marketing Land and Search Engine Land Editor Danny Sullivan. Discover Rincon's answers!
---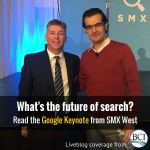 You're tuned in to the BCI blog where we're liveblogging SMX West all week. This is the show's opening keynote, a demo-heavy presentation by Behshad Behzadi, Principal Engineer, Google Zurich.
Behzadi is the director of conversational search. Danny Sullivan says that Behzadi previously did this presentation at SMX London, and it was a mind-blowing presentation into what's possible with conversational search. Behzadi has been at Google for 10 years, the first 7 years working on ranking, and the last 3 years working on future tech including Now on Tap.
For what Behshad Behzadi explains is the future of search, including voice search and Now on Tap, read this opening keynote of SMX West.
---
February 26, 2016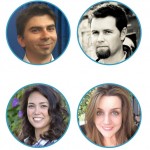 Search Marketing Expo (SMX) West 2016 is happening next week, and we're anticipating the return of the first Google Dance since 2008! SMX West is a digital marketing conference held each year in San Jose, and the dance is a party held on Google's Mountain View campus for the conference's attendees.
We invited Google's Webmaster Trends Analyst Gary Illyes — one of the most-anticipated speakers slated to take the SMX stage — to join us for a special Hangout on Air. Illyes and Search Quality Analyst Nathan Johns were integral in bringing back the Google Dance, and both took a few minutes to tell us what to expect from the fete in a light-hearted Hangout.
Go behind the scenes of the Google Dance in this video!
---
February 25, 2016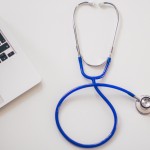 Late last week, Google announced that they were dramatically changing the layout of their SERPs by removing right-side ads from the page. At the same time, they added an extra ad to the top of the fold for "highly commercial queries" and three text ads to the bottom of the SERPs. This eliminates the number of paid ads for certain types of SERPs from as many as 11 to a maximum of seven.
There has been much speculation on what impact this will have in the PPC world, but what do these changes mean for SEOs who are more concerned with organic rankings?
Should SEOs be changing their tactics in light of the SERP shakeup? Or is it business as usual? There certainly seems to be a general consensus that organic SEO is the loser with all of these changes, but I'm not so sure that that is the case.
Read How Google Removing Right-Side Ads from SERPs Effects Organic SEO.
---
February 4, 2016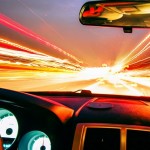 Google is pushing AMP hard right now.
"At State of Search in Dallas, Gary Illyes from Google revealed what the next big thing for 2016 would be, and it is AMP, also known as Accelerated Mobile Pages. And he said they will be pushing it aggressively in 2016." —Jennifer Slegg, TheSEMPost.com
Typically, when Google says "this is important and you should do this," the SEO community jumps to it – especially with today's focus on mobile SEO.
But AMP is NOT for everyone. Let's be clear on who AMP is for and the limitations it poses to every other business.
Read the advantages, drawbacks and technical requirements of Google AMP in "Considering Google AMP for SEO?"
---
February 2, 2016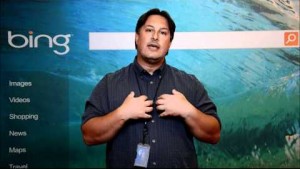 Maybe the question is, why should you expect anything?
The truth is, inside an engine is a busy place. I spent nearly six years representing a search engine to the SEO industry and I can tell you that, contrary to many search engine optimization conspiracy theories, neither Bing nor Google have designs on harming businesses. Both do have profit motives, however, just like you do.
Updates happen because … pause for drum roll … something undesirable is happening!
Read more from Duane Forrester in "What Should You Expect from a Search Engine?"
---
December 18, 2015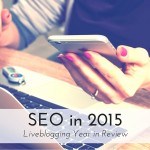 If TIME Magazine were to do an issue on the SEO industry in 2015, the table of contents would look like this.
• 2015 SEO Story of the Year: Mobilegeddon
• Runner-Up: More Mobile – App Deep Linking and Indexing
• Runner-Up: The Penguin that Never Came
• Runner-Up: RankBrain AI
• 15-Minutes-of-Famers in 2015: Millennials are the moment's hottest market segment, but it's an attention to audience that has staying power
We don't publish TIME Magazine, but on the BCI blog, we do publish the SEO industry's major news stories and marketing practices. A mobile-focused marketing perspective, Google's MIA Penguin and link removal practices, and a search engine ranking algorithm that learns are the topics covered on today's Virtual Conference SEO track.
---
December 7, 2015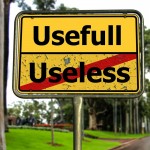 Google's latest update of its Search Quality Rating Guidelines shows a shifted focus at the search engine, and consequently, for SEOs. For years, the buzzword for search engine optimization has been "relevance" — making your site the most relevant result for a searcher's query. But as Duane Forrester, our new VP of organic search operations, observed: "It's all about usefulness today and moving forward. The goal of the search engine is simple: increase searcher satisfaction. That's why 'useful' is the new watchword. Previously we said 'relevant,' but really we all meant 'useful.'"
Google annually updates its internal guidelines document that tells hired human quality raters how to evaluate sites as part of Google's ongoing experiments. The guidelines are not the algorithm. But they do show what Google's focusing on, and that's worth paying attention to. Here's our checklist for making sure your SEO campaign aligns with Google's priorities.
Review the 2015 Search Quality Rating Guidelines Checklist.
---