Liveblog Archives - Page 4 of 42 - Bruce Clay, Inc. Blog
September 30, 2015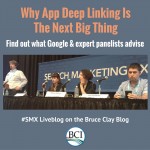 If you have an app, app indexing should be more than on your radar – it should be a practice, according to the speakers of this lively SMX East session. Emily Grossman, Igal Stolpner, and Google's Mariya Moeva all take the stage to offer convincing facts for why you should be implementing app indexing now. They also provide tips on how to do app deep linking and what gives a ranking boost.
Read the full liveblog with slides.
---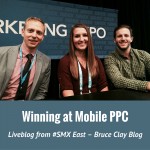 This SMX East session titled "Winning At Mobile PPC (Beyond mCommerce)" promises to take us beyond the "why you have to be on mobile" rhetoric, since that's now a given. Speakers Aaron Levy, Amy Bishop and John Busby will share from their experience (they're all senior-level ad managers) to help advertisers take advantage of mobile user behavior to drive ecommerce. They ask (and answer):
Why mobile doesn't convert like desktop.
Four types of mobile users and what they want.
How to adjust ad radius to increase activity.
What Google AdWords tools help you track conversions from phone calls or other.
Read the full liveblog.
---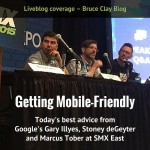 Factors unique to mobile SEO are highlighted in this SMX session on how to survive the next Mobilegeddon. Speakers Gary Illyes, (Webmaster Trends Analyst, Google), Stoney deGeyter (CEO, Pole Position Marketing), and Marcus Tober (Founder/CTO, Searchmetrics Inc.) take SMX attendees on a mobile-friendly tour that includes common mistakes marketers make when configuring a mobile-friendly site.
Read the Liveblog now.
---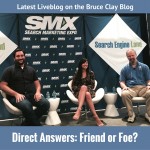 If your site gets featured in Direct Answers in search results, it can really boost traffic to your site. Don't think of them as the enemy, but as a friend!
So say Eric Enge, Ehren Reilly and Amber Fehrenbach, who presented their key insights into Direct Answers at an SMX East session. Sharing data and examples straight from their agencies/brands, they showed:
How Direct Answers is growing
Benefits of being cited in a Direct Answer
Advice for getting featured in Google Direct Answers
Preferred tools to help optimize
Which types of businesses lose
Read the liveblog for all the research and insights.
---
Brad Bender, vice president of product management at Google Display Network, delivered a keynote at SMX East 2015. Google VIPs often use the SMX stage to share big announcements, and today was no exception!
Read the full liveblog to find out Google Display Network's announcements and how to use new programmatic advertising capabilities to reach your perfect audience.
---
September 29, 2015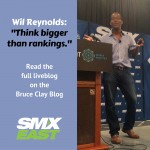 If someone took your content away from the web … would anybody miss it?
Wil Reynolds (@WilReynolds), founder of Seer Interactive, wants you to think about this.
Does your content solve a problem, or does it exist simply to exist? If you're doing content for content's sake, or focusing on ranking just for ranking's sake, you're playing the digital marketing game wrong. Because your chief concerns should be the user, their frustrations, and creating content they can trust.
Read the full liveblog.
---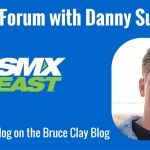 What happens when SMX attendees get Search Engine Land founding editor Danny Sullivan all to themselves? It's an evening open forum with questions all over the board.
Read the Liveblog now.
---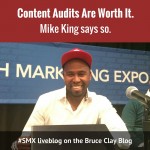 Content audits are worth it.
Or so says Mike King (@IPullRank). He's diving into content audits in "Perfect Starts: How to Get More of the Right Traffic" at this SMX East 2015 session. Fair warning: he has a lot to say, and he talks fast — this liveblog captures the highlights.
Read more of the liveblog (and slides) for Content Audits Are Worth It
---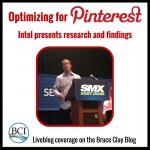 If your target audience is using Pinterest, it's time to start optimizing for this search engine (because it's not a social platform). Intel's Director of SEO Laura Mitchell and Community Manager Scott Jaworski (@scott_jaworski) provide tips on the most effective SEO tactics to apply on Pinterest.
Read the liveblog.
---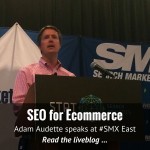 SEOs working on ecommerce sites face particular challenges and require some specialized know-how. At SMX East, speaker Adam Audette (@audette), the SVP of organic search at Merkle, reached out to SEO-savvy ecommerce-minded marketers in this short but fact-packed session on SEO for ecommerce sites.
As SEO marketers today, we need to be familiar with everything. However, there are two major pillars of SEO: the technical side and the audience side. Here are some of the main issues of each that relate to ecommerce sites.
Read the liveblog of SEO for Ecommerce: What You Need to Know
---