Free SEO Tool Alert: Top-Ranked Websites by Keyword Tool Vets Your Keywords
Did you know that in addition to the SEOToolSet suite of diagnostic tools, many of the Bruce Clay, Inc. SEO power tools have a free, light counterpart? These free tools can help you perform research and collect insights about keywords, links, on-page analysis and competitive analysis. To introduce you to our collection of free SEO tools we're starting a Free SEO Tool Tuesday series, in which we spotlight one of our 10 free tools, what it does and how to use it. Here's the first free tool. Enjoy! 
Today's Free SEO Tool: Top-Ranked Websites by Keyword
Tool type: keyword research, competitive research
What you learn: Enter a keyword phrase to learn the top domains and top URLs that rank in the search engines for that phrase.
Why this matters: By knowing the top ranked sites and pages for a keyword, you get a sense of the competition for this keyword and whether or not your site is a good fit for this SERP. You can use this information during your keyword research process to vet your own keyword list, confirming that a keyword is a target or one that should be scratched off the list.
Here's the tool; enter a keyword phrase to try it out.
Top-Ranked Websites by Keyword Tool
SEOToolSet® Top Domains
| Domain | PR | AllInTitle | Pages Indexed | Inbound Links | | | |
| --- | --- | --- | --- | --- | --- | --- | --- |
| | | | | | | | |
Individual Pages Ranked
How to Use It
1. Enter a keyword phrase into the free Top-Ranked Websites by Keyword tool and press Research Keyword. For best results, only enter one keyword phrase at a time (you can run this tool over and over again with as many keyword phrases as you want).
2. The tool will return two lists, one showing the top 10 domains with the most top-25 rankings for that keyword phrase, and a second list showing the top 10 unique URLs that rank highest for the phrase you entered. The lists show Google, Bing and Yahoo! rankings, and show numbers that represent each site's current (real-time) ranking position. All of the results you are seeing are unbiased results 100% free of local/historical personalization.
In the below example we're analyzing the phrase "backpacking sleeping bags." Feel free to enter a keyword phrase in the above tool to see results unique to your keyword list.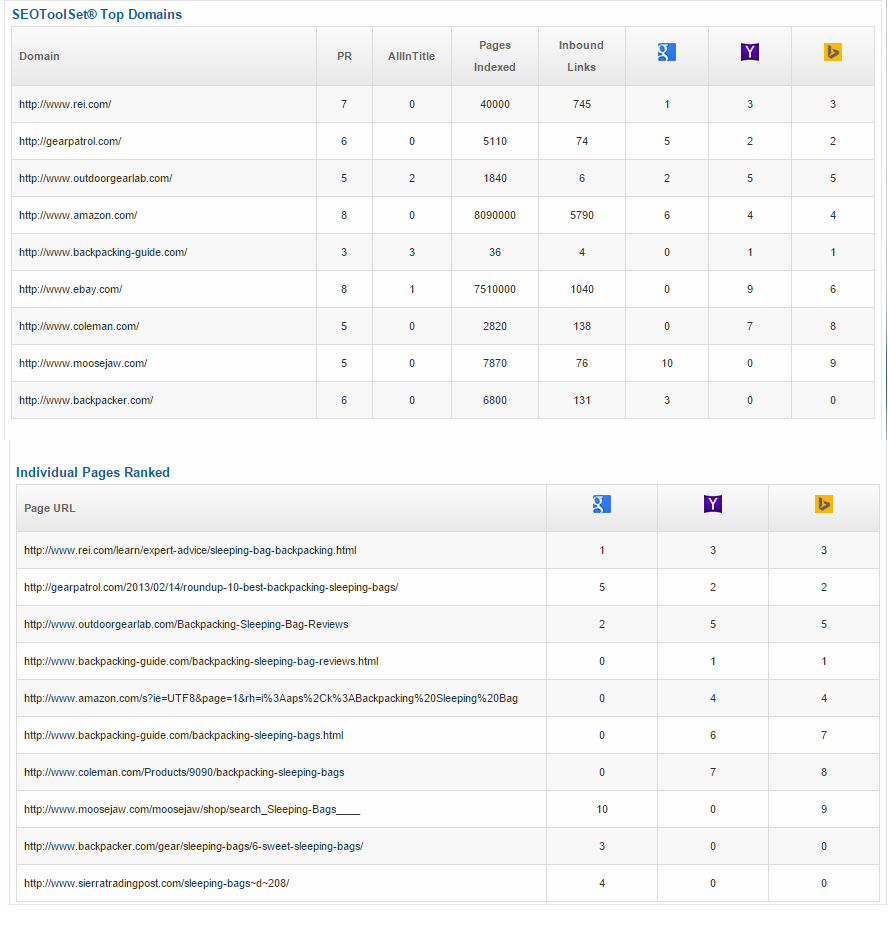 What to Do With This Data
As part of your keyword research vetting process, use the ranking information provided by this tool to evaluate the keyword's competitive space.
1. Make sure you're in the right space. Are the websites listed your competitors? Would you be happy ranking for this keyword phrase amongst these websites, or would your website make no sense here? If you would fit right in, your keyword phrase is on the right track. If you stick out like a sore thumb this phrase doesn't mean to the world (and Google) what it means to you. Scratch it off your list.
2. Feel out competition. Is the space too competitive? When performing keyword research you're looking for phrases that have high a search volume and low competition mix. You will never outrank Amazon or REI for backpacking gear; are all of the top competitors in this space Amazons and REIs? If yes, you may want to scratch this one off your list and seek out a less competitive high-volume phrase. Remember, we want to capitalize on the opportunity to rank on page one — not page four.
3. Learn from what's working. Use the list of top Individual Pages Ranked to learn what type of content the search engines consider to be top-notch and highly-relevant for this keyword phrase. How are these pages optimized? What type of content is getting ranked for these keywords? How much crawlable content is on each page?
A great example: Notice the REI page ranking in the number one Google spot isn't a product page but an article page from the Expert Advice section of their website. This tells me that, when possible, the search engine is looking to rank long-form informative content highly for this keyword phrase. In this scenario you might want to ask yourself: Can I make some long-form informative content that is optimized for this keyword phrase?

Find All Our Free SEO Tools
If you like this tool, bookmark this blog post to use this tool over and over again — or feel free to use this tool embedded within the competitive research step of our SEO tutorial.
Every week for the next 10 weeks we're going to be telling you how our free tools work, what each tells you, and why you might want to consider using each. Stay tuned to Free SEO Tool Tuesday for more free tools. Or, if you're not the waiting type, see all the 10 free SEO tools embedded within our free SEO tutorial right now.

Posted by Chelsea Adams on January 27th, 2015 at 10:30 am
11 Replies to "Free SEO Tool Alert: Top-Ranked Websites by Keyword Tool Vets Your Keywords"