Getting Started with SEO with Bruce Clay
Bruce Clay is the solo presenter for this SEO basics discussion.
Download the presentation here: http://www.bruceclay.com/download/2012-StartingSEO-SES-SF.pdf
Most of the room raises their hand when Bruce asks who reads HTML and who is a marketer (2 separate shows of hands, lots of hands each time).
Bruce says that the changes Google has made in the last 5 years has been done to get more traffic.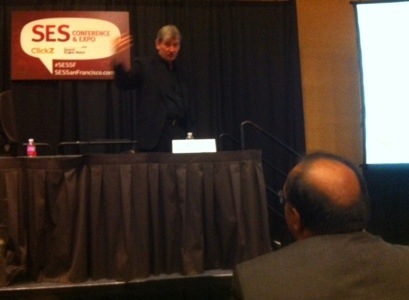 On-page factors: tags and a clear subject-matter focus
Expertness: Do others think you're an expert? Can you prove to others you're an expert?
Copywriting: structural content, sentence structure and word usage, including clarification words
Engagement objects: Video, images, maps, books, news, blogs, Universal results
Site architecture/siloing: Theme your content by the search query
Server and software performance: Slow server discourages spiders
Content Overview
Use clarification words that help explain the meaning of your content, such as:
My apple is a lemon vs. My Apple computer is a lemon.
Google can only compare to other sites, so you don't need a perfect site. You need a site that's least imperfect. We use standard distribution curves to predict normal based upon results.
Google is tightening down on the zone of acceptance.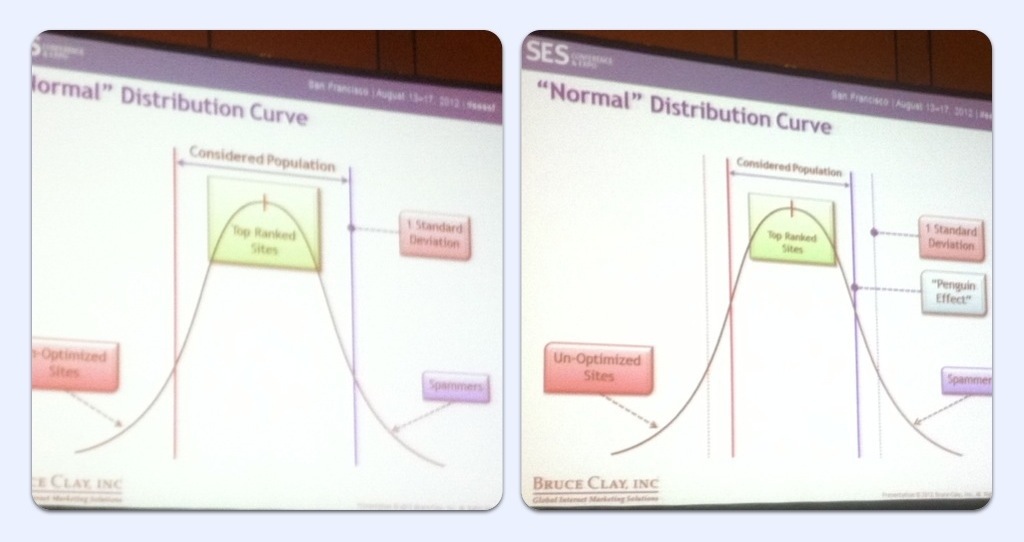 The concept of "better" can change. The curves must be watched.
Associated Words
Your keywords will be defined by the company it keeps.
Surrounding words help keyword clarification.
Proximity: Latent Semantic Indexing (LSI) concepts apply
Make sure you're equal before you're better. Use words your competition uses and search engines will reward you.

Search with a tilde and find words that show up. Put those associated words in your own content.

Website Theme

You need to make search engines understand what your site is about. Supplemental, complementary, synergistic words to clarify the meanings of keywords. At the top of a pyramid is a keyword. Below that is a topic and the bottom is "theme".

Linking overview: your internal links is the biggest thing in your control to indicate theme and subject specialty. Structure your site in silos and look up siloing if you're interested in an advanced method of building relevance on your site.

Nofollow: does it work? Yes and no…
Paid links: they're in the hot seat and a huge target Google wants to eliminate
Link life: should be random
PageRank: should be natural distribution
Random IP: should be varied

Google believes buying links jeopardizes the fairness of ranking on the internet. We all depend on Google not being deceived by paid links because then the deepest pockets get the rankings and traffic. We must all support Google's battle against paid links.

Engagement Objects: Experiment

Scanned a newspaper article an uploaded the jpg image and then a pdf. They found Google returned the PDF in a search for a line of text in the article. Google can read images. They can also index video content. Either compete against video or leverage it. It will be ore important moving forward..

Server Overview

Slow servers impact spidering of content.
Improper technology for search engines can prevent indexing or crawling.
Technology that prevents page editing (like a bad CMS) can prevent content from being properly implemented.
Improper or missing redirects can harm link value transfers (bad redirects)

Future of Search and SEO

Behavioral search
Intent-based search
Localized search
Engagement objects

Therefore:

Analytics measuring traffic
Ranking is not SEO
Ranking still first step

Ebay wondered why their analytics showed traffic coming in from the query "E". Google Instant was filling in ebay when people typed "E" and the traffic was coming from there.

Behavioral Keyword Research

Behavioral search is based on disjoint consecutive searches forming a long-tail filter or subsequent searches.
Based on persona and community.
Last query in sequence is misleading
Analytics becomes less valuable since last query tracked by analytics doesn't tell the full story of keyword attribution since results change based on previous searches.

The [hammer] example shows the importance of understanding what the audience is trying to do. That's the future of SEO.

Posted by Virginia Nussey on August 14th, 2012 at 1:49 pm

2 Replies to "Getting Started with SEO with Bruce Clay"

Comments are closed