#PubCon Las Vegas 2013 – Where the Bruce Clay, Inc. Team Will Be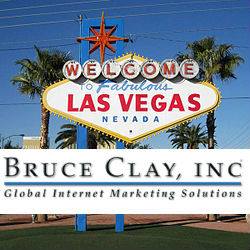 Las Vegas. There's no place Internet marketers love more. We're a work hard – play hard crew, and PubCon Las Vegas has year-and-again proved to be the industry networking event to fight for. After six years at Bruce Clay, Inc., I've moved my way up the ranks of the content department to secure a spot at next week's Vegas happening. For my first Pubcon outing I'll be wearing a number of hats as an exhibitor, member of the press and socialite-sponsor. Also repping BCI blue at PubCon LV is Bruce Clay, the man, and Mindy Weinstein, our SEO manager.
Business first. There's a Bruce Clay, Inc. booth in the Las Vegas Convention Center where you'll find Mindy and Bruce during office hours most of the week.
Bruce is also speaking at two sessions:
Tuesday at 11:30: Local Search and Mobile Optimization
Wednesday at 1:30: SEO Hot Topics and Trends
For my press duties, I plan to liveblog the three conference keynotes:
Tuesday at 9:00: Jason Calacanis
Wednesday at 9:00: Matt Cutts
Thursday at 9:15: Scott Stratten
When the convention center shuts down for the evening, we'll be making our way to these after hours events.
Networking Events
Day and Time
Session
Who's There
Monday
5:30-8 pm
Pubcon Kickoff Networking Reception sponsored by Search Engine Journal at the Convention Center South
Virginia
Tuesday
7-10 pm
#EpicDinner at Stratosphere Hotel's Observation Deck — Sold out! If you're on the list, see you there!
Virginia
Tuesday
9:45-11:45 pm
Purpose Inc. 7th Annual 2013 SEO Poker Tournament at Mirage — Bruce Clay, Inc.'s a sponsor! Register to play and shmooze!
Bruce, Mindy and Virginia
Wednesday
6:30-7:30 pm
US Search Awards at Treasure Island. Tickets are still available for this formal affair.
Bruce, Mindy and Virginia
Thursday
Starts at 4:45 pm
Pubcon Rocktoberfest at Hofbräuhaus
Bruce, Mindy and Virginia
Posted by Virginia Nussey on October 20th, 2013 at 1:24 pm