SEO & SEM in the Competitive Automotive Space – Pubcon Liveblog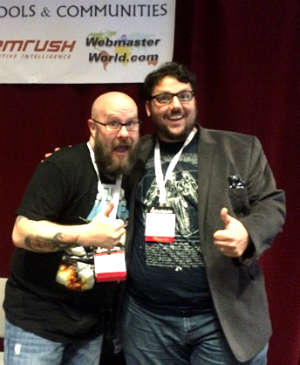 The automotive industry is incredibly competitive when it comes to search engine marketing. To rise to the competition requires in-depth local SEO knowledge and PPC know-how. This session offers strategies for search marketing, both paid and organic, that all marketers can use. Our speakers are Ira Kates, who will speak to paid search, and Greg Gifford, who addresses organic local SEO.
Speakers:
Ira Kates, Senior Digital Business Strategist, 360i Canada (@IraKates)
Greg Gifford, Director of Search and Social, DealerOn (@GregGifford)
Ira Kates: Automotive Search: Lessons from the Kitchen
Ira cooked for 10 years and he's noticed that lessons from chefs in the kitchen have application to search. Today he'll use lessons from chefs he admires to illustrate ways to compete in PPC. It's a crazy competitive time to be in the automotive PPC industry, Kates explains.
"Perfection is lots of little things done well." –Fernand Point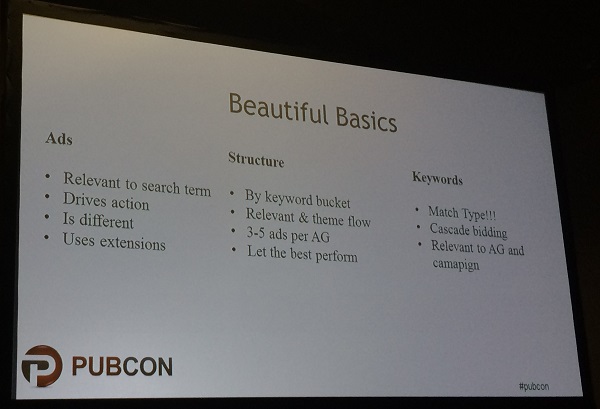 Is the structure of your account contributing to the theme you want to tell your prospective car buyer?
The lifeblood of paid search is match type. You don't want to compete against yourself. Funnel everything toward best performing keyword.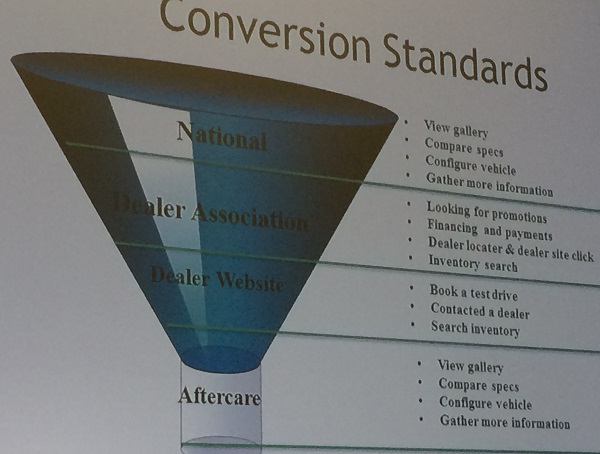 If you break this funnel down, there are funnels within funnels.
At the national level, you're looking at people viewing galleries, comparing specs, taking an action that they're very interested in what the car is offering.
For dealer associations, ask questions of what the purpose of the organization is to support the funnel.
At the dealer level, he explains to customers that "these are the actions" we're looking to get (book a test drive, contact dealer, search inventory).
"Aftercare" is a new area in the funnel that Ira's added to this visual aid since last year's presentations. Why not focus on this, especially with remarketing available?
If you're acquiring a new PPC account, take the campaign down for a couple weeks and scrub the account to apply the fundamentals. Implementing a simple, revised negative keyword list, for example, can result in lower CPA and CPC and you can take that new funding to reinvest in winners.
Ad Copy
A meal tells a story of how it came to your plate. You eat with your eyes as well as your other senses. Your ad needs to tell the story of why someone needs to do something.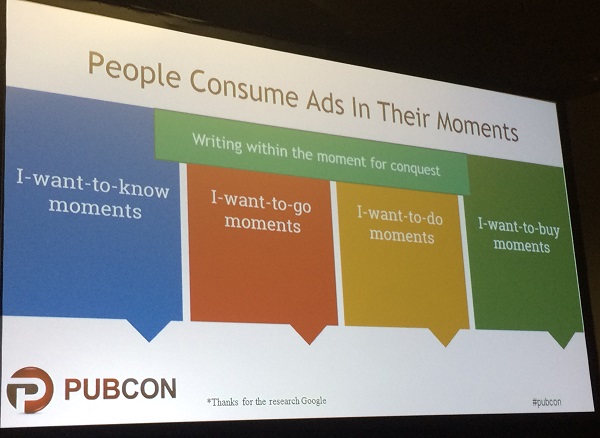 Write your ad for the moment. A year-long test across multiple competitive nameplates show the following (and the author's take is that facts perform better than brand claims):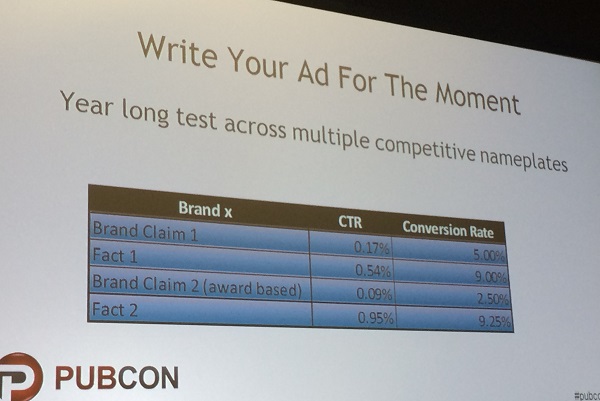 You can see a huge gap of almost doubled conversion rates in the results. Use the geo-gating built into AdWords and focus on people a mile or two within your lot. That's how you can test claims like this.
Creative ads on competitor brand queries:
"Don't Go Rogue – Escape the Mundane" – a search ad on the query "nissan rogue"
"Did You Mean Ford Focus? – Phew, Dodged That Bullet" – a search ad on the query "hyundai elantra"
These are fun headlines. For a national brand to do this adds character to the SERP. Don't be afraid to test.
Testing and Learning
Start small and prove something with a little test on one ad group.
"Good food doesn't come from following a recipe to the letter. It's about having the confidence to experiment." –Marco-Pierre White
This is especially true at the dealership level because 90% of competitors aren't testing and experimenting; they aren't rotating their ad creative out enough.
A year ago, his big takeaways was: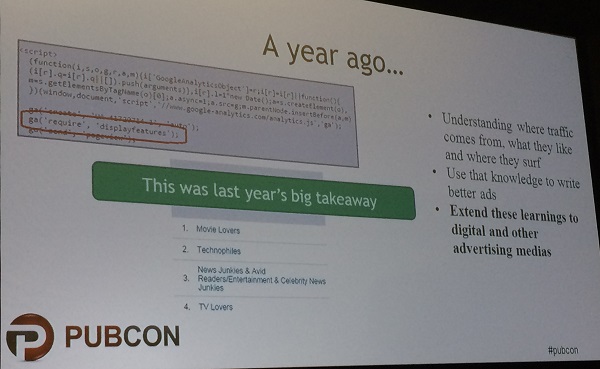 Pay attention to things like "ga(require, displayfeatures)". Build up audiences and bucket them. Now you can test your ad copy and speak to these people again.
Test remarketing audiences for search. He tested Remarketing Audiences in Google Analytics over a two-month period focusing on non-brand keywords.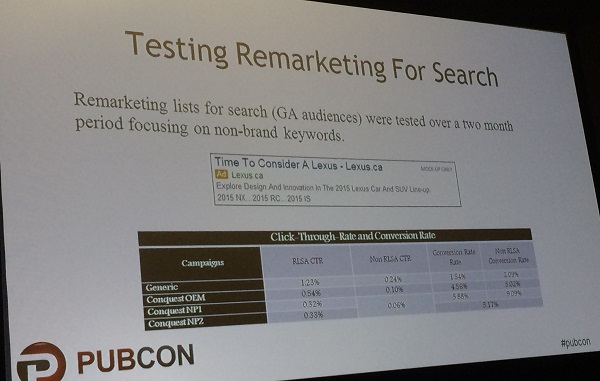 The conversions they're driving are dealership leads.
Favorite research method: Use SEMRush to find competitor's top SEO keywords that aren't super competitive and focus limited conquest dollars against those keywords.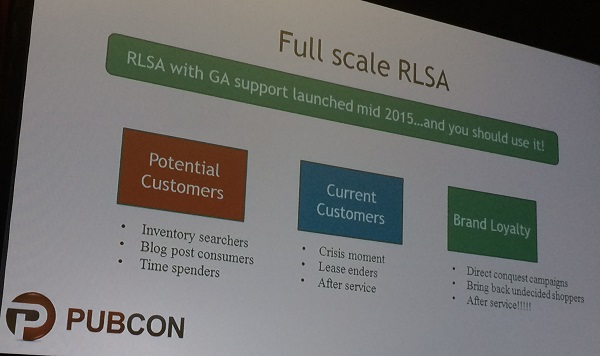 Jump on Google Customer Match – announced 2 weeks ago – to be ahead of the curve.  You can use this to stop your customers from going to a third-tier oil change business. The most powerful use case for Google Customer Match is you know exactly what customer is ending their lease in 3 months. Why not talk to them when they're starting their research on search?
Finally, here are flags to watch out for if someone comes to your dealership and says they want your digital business. They should be able to speak to all these things.
Flags to watch out for:
No examples of work
Price slashing with no offer of how
No clear vision of what your success is
Not asking questions about the business
Only PPC concern is bulking up accounts
Can't define CRO, new extensions or how they measure success
Require you to purchase a website or any other service just for them to run PPC
Greg Gifford: SEO Lessons Learned from the Competitive Automotive Vertical
Or: You Suck at Local SEO
Get his full presentation here
These local SEO tips will help your dealerships. Check out the weekly Wednesday workshop video on the DealerOn blog. Local SEO is a tough puzzle to crack. You can't skate by because otherwise you're blending into the background and will be invisible to customers. He's going to show us the code behind the Google algo.
The automotive niche is crazy competitive, second only to maybe payday loans, bankruptcy attorneys and divorce attorneys. Every major market has 300-600 dealerships (used and new) competing for top SERP spots. No one understands that local SEO is different from web search SEO.
A dealership called up complaining he wasn't showing up in Google but really he meant Google Maps. He didn't understand how Google works. Every dealer thinks they should be #1 and that SEO is "instant on." Everyone thinks they're so unique:
"We treat our customers like family."
"We're family owned."
"We have a state-of-the-art showroom."
"No haggle pricing/up front pricing."
Every dealership says this. Automotive SEO vendors are just as bad. Things shady SEO vendors do:
Junk duplicated content (same content for every trim with year/make/model replaced)
Outdated SEO strategies (keyword stuffing meta description, multiple city names stuffed into a title tag, hidden text in a "read more" link)
Go 6 months without touching a site
X pages of content per month without a strategy
Local SEO is an easy win because no one is doing it. Do the extra stuff and blow past everyone not doing it. It changes all the time so it's important to keep up to date and update your strategy. See our extensive Checklist for Local SEO for even more help.
Recent big updates important for local SEO:
Pigeon update (July 2014)
GMB Quality Guidelines update (December 2014)

Most importantly don't include a descriptor in your GMB business name
Choose only the most specific categories (he suspects weight/value given to category choices)
Different departments with different pages must choose unique categories

New three-result local pack (August 2015) (read the BCI blog report of for the latest on this change)
Local Search Ranking Factors Study 2015 (released by Moz two weeks ago)
The rest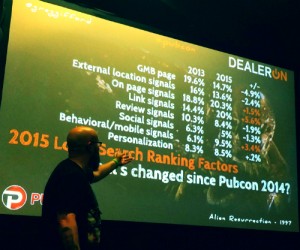 of the presentation covers the findings of the newly released study Local Search Ranking Factors Study (LSRF). What's changed since Pubcon 2014? See the image to the right.
Big drop in GMB pages
Drop in link signals
Drop in on-page
Increase in behavior and mobile
On-Site Signals – 23% of the LSRF
The most important question to ask is why do you deserve to rank? Content matters but don't take that the wrong way. It's quality of content and not quantity of content. Don't push out so much junk.
This stuff sucks:
No home page content (like all jpeg images)
Only a few sentences on a page
Default page text – this is a pervasive problem in auto right now because an OEM like Audi requires all dealers to use a certain platform and the dealer never customizes the content so their site is made up of default content
Blatant keyword spamming
Awful title tags – this is the most important SEO element
Stop trying to fool the nerds at Google. Write your content for people, not search engines. For local search, when you put anything on your site, do it to make your website better for your customers. Be unique and useful.
PRO TIP: read your content out loud to someone else. This is how you can hear if the content is helpful.
Optimize content for local:
Include City, ST in

title tag – don't put company name first (you don't need to optimize for it)
alt text
body content
URLs
Meta description

Embedded GMB map (from GMB page, not from Maps)
Consistent NAP
You must have a blog (not a luxury)

You need to post things people will actually want to read. Write posts about local topics.
Want to rank in nearby cities? Use local content silos
Link Signals – 20% of the LSRF
Thanks to Penguin, links are no longer simply a numbers game
Get local links (example: small church websites) to local content pages (not all pointed to home page)
Take advantage of sponsorships, events, things you're already doing in the community
Pay attention to internal linking!
GMB – 14.7% of the LSRF
The most important thing you can do is claim your GMB. If you're having trouble getting the postcard or it's claimed by an ex-employees personal account, use GMB phone support
Choose the right categories
Upload custom user and cover image
Citation Signals
It's your mentions of your NAP on other websites
Most dealers have a ton of citation problems. Your citations have to be 100% consistent.
Do a quick check of major citations with Moz Local
Use Whitespark to check all your citations
Review Signals – 8.4%
88% of consumers trust online reviews as much as reviews from friends or family.
4 out of 5 people will decide not to do business with you if you have bad reviews. You can't fake good reviews. You can't fake caring about your customers. He turns down business from shady car dealerships. You have to be legit before you do SEO. Don't ignore Yelp; it powers the stars on Apple Maps.
Read up on review strategy
Make sure you have more reviews than your competitors. You need five before you get the aggregate star ratings. Get more reviews but not too many more; customers will think you're faking results.
Bonus tip: Don't tether Facebook and Twitter. Use any of the many tools that you can post to both at the same time without it looking to the user like it's out of place in the native environment.
---
While you're here, Bruce Clay offers industry-leading PPC and SEM services. Get in touch today!
---
Posted by Virginia Nussey on October 14th, 2015 at 11:30 am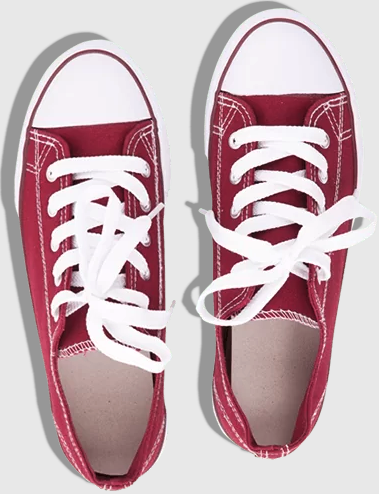 Bruce Clay
on March 27, 2021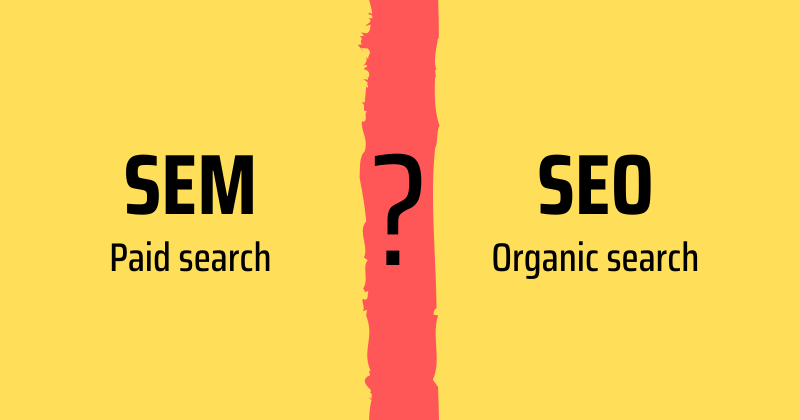 Bruce Clay, Inc.
on March 1, 2021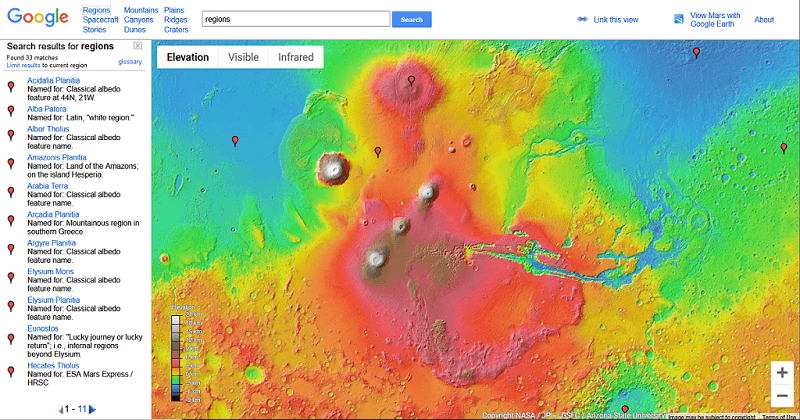 Bruce Clay, Inc.
on February 4, 2021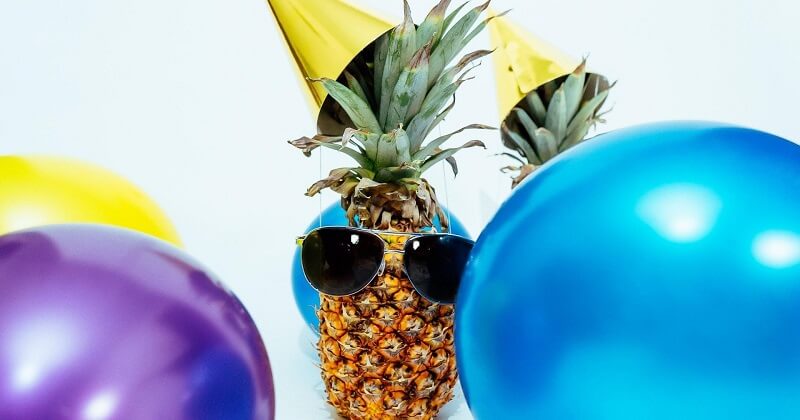 6 Replies to "SEO & SEM in the Competitive Automotive Space – Pubcon Liveblog"