October 9, 2013
What Is SEM? Does SEM Include SEO?
At a recent gathering of marketing professionals and people interested in learning about Digital marketing, I was surprised by the number of people asking me to confirm that their understanding of "SEM" was accurate.
While the term itself seems basic, this question isn't a bad one as the definition has in fact changed in the dozen or so years since its coining.
SEM is often used to describe paid search marketing initiatives and yet you'll often see uses that suggest it's an umbrella term for all search marketing efforts, begging the question I've heard more than once: "Isn't SEO a part of search engine marketing, too?"
Ah. That question.
Our answer? Read on.
What Is SEM?
Short for "search engine marketing," SEM is usually used to describe the immediate, money-backed portion of search engine marketing that commonly takes the shape of PPC (pay-per-click)/CPC (cost-per-click) search engine results page ads in one form or another.
In fact, when you enter the SEM track at an online marketing conference like SMX, for instance, you can expect to learn about Google AdWords, Bing Ads, advertising paid by the click or by the acquisition (CPC and CPA), and other more specific areas of paid search advertising like retargeting, geotargeting and mobile targeting.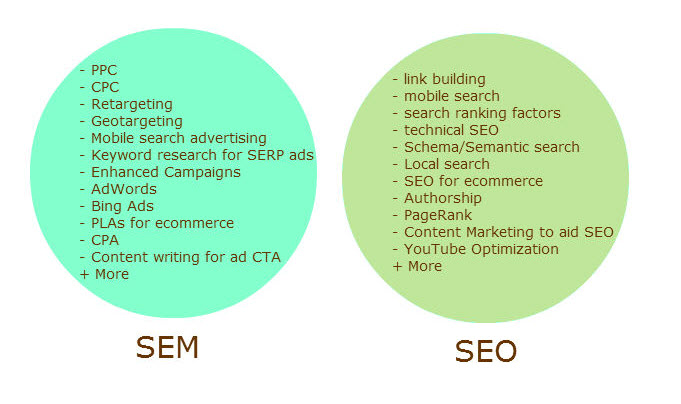 Does "Search Engine Marketing" Include SEO?
When the term "search engine marketing" and the acronym SEM were popularized by Search Engine Land editor-in-chief, Danny Sullivan, in 2001 they were purposefully used as catch-all terms to describe all efforts that encouraged traffic gain via search engine results pages – including paid and organic initiatives. In other words, when the term was created in 2001 "SEM" referred to and included both paid search engine advertising and organic search engine optimization (SEO).
In the 12 years since its inception, the common use of the term SEM has shifted, and accordingly what the term communicates and essentially means has shifted, as well. While SEMPO  (the Search Engine Marketing Professionals Organization) still defines SEM as an all-encompassing term that includes both SEO and paid placement efforts, today Search Engine Land defines SEM as paid-exclusive ("the process of gaining traffic by purchasing ads on search engines"), Google defines SEM as "the use of online advertising on search engine results pages to help visitors find your website," and SMX – the search marketing conference run by Third Door Media and Danny Sullivan – clearly draws a line in the sand with an agenda that labels organic optimization sessions as SEO-focused, and paid advertising sessions as SEM-focused.
So, does SEM include SEO? It really depends on who you talk to, but based on conversations with search industry professionals and based on the definitions of industry leaders like Google, SMX, and Search Engine Land – in 2013 the industry at large commonly defines SEM as a paid search-focused specialty of online marketing.
---
---
13 responses to "What Is SEM? Does SEM Include SEO?"