Pubcon NOLA 2014 Archives - Bruce Clay, Inc. Blog
March 20, 2014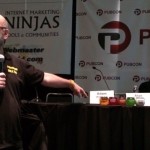 Alan K'Necht (Digital Always Media Inc.) and Adam Proehl (NordicClick Interactive) are doing a tag team presentation and I'm getting the WWF vibe as both of them have mics in hand and are walking around the front of the room. They'll go over the 10 most frequently asked questions about measuring social media. And they're giving out Buzz Balls (fruity alcoholic drinks) for audience interaction. Social engagement IRL!
Read more of #Pubcon Liveblog: Social Media Analytics.
---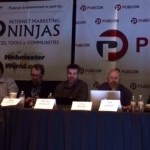 "What follows may be one of the most interesting SEO conversations that took place in New Orleans this week," says Virginia Nussey in her intro to this Pubcon South liveblog coverage.
With 7 SEOs, 150+ years of cumulative experience, 1 hour, and no rules, if you're a marketer interested in where SEO is going and where it's been this Pubcon Q&A session is not to be missed.
Read all of Pubcon Liveblog: SEO Moshpit Q&A with the SEO "Old School"
---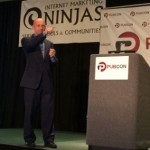 How do people truly responding to your marketing efforts? Do your consumers trust you?
In this Pubcon South liveblog, computer engineer and cognitive scientist, Tim Ash, offers what he considers to be four primary pillars every brand must master in order to attain consumer trust and boost conversion rate.
Read about the four pillars in Tim Ash Keynote — The 4 Pillars of Trust.
---
March 19, 2014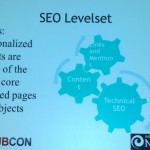 The filter bubble is the knowledge "bubble" Google's personalized search results have the potential to create. The filter bubble effect creates search results filled only with web pages, authors, and viewpoints that a searcher has previously "liked" or otherwise engaged with in the past. In this Pubcon session two speakers discuss how the personalized search "filter bubble" can affect branded, non-branded and local searches, and ways marketers can improve SERP exposure by circumventing Google's personalization layer.
Read more of #Pubcon Liveblog: SEO Beyond the Filter Bubble.
---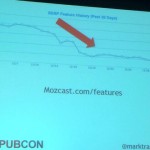 In the second week of December there were an increasing number of reports that author photos weren't showing up as often in SERPs. At Pubcon Las Vegas last year Matt Cutts said that when they reduced the number of authorship results shown in SERPs by 15% they saw better results. Take that to mean whatever Google speak you think it means. Here's the initial drop followed by continued periods of volatility.
Read more of Google+ and Authorship: 2014 Hot Topics and Trends
---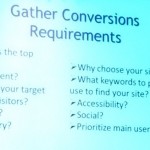 Presenter Kim Krause Berg @kim_cre8pc, Internet Marketing Ninjas, will talk about how to get your ducks in a row before you start building your site and always include conversion elements in your design.
Conversions are turning visits into sales. You think conversions are making money, getting subscriptions, increasing form submissions, increasing sales leads
Your target users think conversions are …
Do you have what I need?
Are you genuine, credible?
Do you provide excellent customer service?
Prices?
Opt-in/opt-out signup
Are they spying on me?
Will I be able to read it?
Can I access the site from my phone?
Can I get in and out in a hurry?
Read more of #Pubcon Liveblog: Conversion Web Design.
---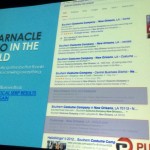 Will Scott from Search Influence opens up the session by announcing that Google sucks …
Google treats small businesses as a rounding error in their economic equation. A strategy for local businesses is barnacle SEO: attaching oneself to a large fixed object and waiting for customers to float by in the current. Google says the most important thing in business is sincerity. If you can fake that, you've got it made.
Google has a weakness; they're a sucker for big "authority" sites:
YouTube
Yelp
Pinterest
Facebook
Houzz
YP.com
Read more of #Pubcon Liveblog: Local Search Hot Topics and Trends.
---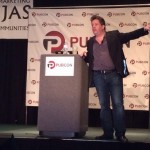 Peter Shankman invented a mailing list called HARO. And that wasn't new. People knew what a mailing list was when he started it. The only difference is he made it really hard to not read it. When he was building HARO he came up with four rules for running his business.
$300 billion was left on the table last year due to bad customer service. Consumers don't expect to be treated well. If you can be one level above crap you'll win. Following these four rules will cause you to provide good customer service.
First, some background on him. Peter was in grad school in Santa Barbara studying fashion photography until his financial aid dried up and he moved into his parents' basement in New York. He was hanging out in the Melrose Place chatroom on AOL. Two weeks later he was working in the newly launched AOL newsroom. While working there he learned two lessons.
Read more of Pubcon Liveblog: Peter Shankman's 4 Rules of Customer Service and Social Media.
---
March 18, 2014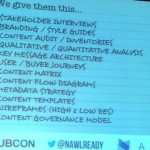 Do you think your business is "boring"? Do you struggle with creating content that matters? The next presentations are for you.
First, let's dispel a common myth. There's no such thing as a boring industry. Every industry exists to fill a need, to do necessary things, for people who care about getting the best service.
There is, however, boring content. This includes content that is not useful, doesn't speak to target audience, or isn't interesting or entertaining. Good content furthers your strategy and goals.
Read more of Content Marketing Tips for "Boring" Brands.
---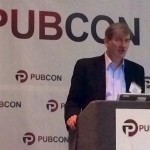 Our own Bruce Clay, president of the org that publishes this fine blog, lays a roadmap for search engine optimization in the coming year. The SMX West conference last week and comments made there by Google employees (at Meet the Search Engines and Amit Singhal's Keynote) are the source of this presentation.
Bruce has been performing search engine optimization since 1996 and has watched SEO techniques and strategies evolve over the last 2 decades. He wrote the book on SEO — "SEO All-In-One for Dummies," which covers time-tested algorithm-proof optimization methodology.
Read more of SEO 2014: Bruce Clay's PubCon South Roadmap of What to Expect.
---