August 2011 - Bruce Clay, Inc. Blog
August 31, 2011
You have all these really great ideas on how to keep your brand engaged in social media, yet all those other things you have to do, all those work things, keep getting in the way. It happens to the best of us. The first problem? We have to realize that social media is work, and it should be viewed as part of the work week.
If you want to make strides in social media, you have to make time for social media. And that's what we're talking about today – taking control of your schedule in a way that makes social media work for your success, not against it.
Read more of How to Get a Handle on Your Social Media Schedule.
---
August 30, 2011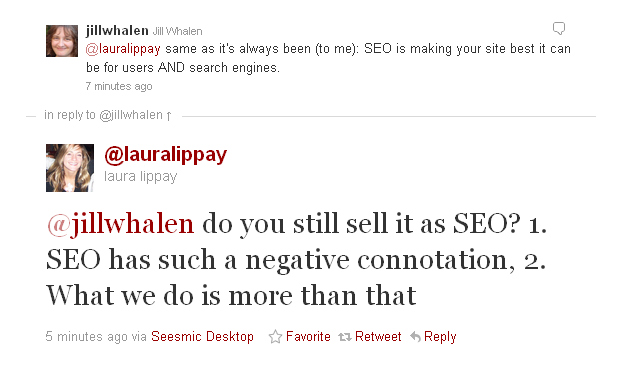 It's not a new question, but it's telling that it's one so oft repeated and packed full of meaning.
Is the term "SEO" still a good working term for the tasks done and responsibilities held by self-defined SEOs?
Yesterday morning, Laura Lippay asked Twitter what "SEO" means to you today, leading to a dialogue about the reputation of SEO, how SEOs position their services and what responsibilities fall under the increasingly amorphous SEO umbrella.
Since the advent of Web 2.0, we've been teasing out this question over drinks and phone calls with industry friends, never settling on a final answer, everyone holding a unique point of view. I believe that we've never forced a community decision because an answer isn't critical to selling SEO services today.
Yet, in the very near future, we may find that the popularity and visibility of social media marketing as a branding and engagement channel may eclipse search as the new media darling that gets all the attention. For SEO to maintain its relevance in the eyes of decision makers, we may need to rethink our unique value proposition. I propose that, along with the evolving expectations of our customers, SEO's identity is growing to reflect a necessary marriage of persuasive content and data-driven measurement.
Read more of A Case for Redefining SEO: Embracing Content Marketing.
---
August 29, 2011
Eww, what's that? Something stinks … wait, I know, it's like 75 percent of the content on the Web. That lingering stench has overstayed its welcome, which is why the Panda cleaning crew has come to throw out the worst of the worst – about 12 percent, give or take. But what about all that other content – the stuff we're responsible for every day through blogging? The stuff that's not quite bad enough for Panda, but we still know it's kinda trashy? That's the stuff we're going to talk about today, specifically quality blog posts.
Read more of Cleaning Up Trashy Web Content: How to Create Posts That Don't Stink.
---
August 26, 2011
With all that's going on in the world – hurricanes, Libya, and the uncertain future of a Jobs-less Apple – wouldn't it be nice to start your weekend off with some light laughter and carefree fun? For most of us, things are pretty peachy, after all.
How else might I tickle your whistle? Falling squarely in the impressive category, baby can read!
Read more of Friday Recap: Just for Giggles.
---
August 25, 2011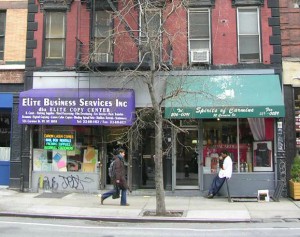 Today on SEM Synergy, I rounded up a PPC power line-up during my time at SES San Francisco. Interviews with paid search specialists Kevin Lee of Didit, Andrew Goodman of Page Zero Media and Jason O'Hare and Will Eisner of WordStream touch upon the increasingly complex state of online advertising today. The landscape navigated by a paid search marketer is undergoing dramatic shifts, as search engines Yahoo! and Bing partnered and with newer social media channels competing for resources and attention.
For small businesses engaged in or newly exploring online marketing, it's a chore to get a working understanding of each channel, the ROI potential and the compound effect of channels interaction with one another.
Read more of Getting SMBs Online – Today on SEM Synergy.
---
August 24, 2011
Fresh back from Search Engine Strategies in San Francisco and I've got a new appreciation for conference speakers. Why? Well, a few weeks back, Bruce asked if I would take over the expo hall theater presentation for him at SES. Not a big deal, right? About 75 percent of me wanted to say no, but that other 25 percent that was fed up with my fear of public speaking prevailed, and so I signed on.
Once it was over, I attended remaining sessions and even recalled past conferences with a new perspective on speakers. It's not easy for people to get up there and do what they do –especially if they do it well. It's certainly an acquired skill that takes practice. But, it got me thinking about the conferences I've been to I the past year, some of the things I think make a good speaker and some of the things that even seasoned speakers can improve upon.
Read more of The Dos and Don'ts of Conference Presentations.
---
August 23, 2011
We've got an action-packed newsletter coming to you, set to hit inboxes in the next hour! In our August newsletter, you'll find essential advice on optimizing your site for local searches, an exclusive interview with Digital marketing pioneer Bruce Clay, and a guide to creating infographics that will grab your visitors' attention.
Read more of Local SEO, Designing for Engagement and Bruce Clay Unplugged – SEO Newsletter.
---
August 19, 2011
It's that time again boys and squirrels, ladies and germs. Another Friday recap from your friendly neighborhood SEOs at Bruce Clay, Inc. And what a wild week it was, too. Full of drama, suspense, espionage and slightly dysfunctional humor. Without further procrastination, the news of the week.
For those of you who are political junkies and are as fascinated as we are with social media infusion, I have good news and bad news. The good news is the White House joined Foursquare this week. Now we can see the president check-in all over Washington, DC and this great nation of ours, which will be kind of cool once campaign season is in full swing. The bad news is Barack Obama is not the mayor of the Oval Office quite yet.
Read more of Friday Recap: Post-PC Era Edition.
---
August 18, 2011
The new version of analytics (v5) became available to all users from April 2011. Other than its new look, it has many new features for helping provide better analysis and SEO reports. The analytics team is still working to give us more surprises over the next few months. I will be covering the most useful […]
---
Here we are wrapping up SES 2011. It's been a great time, lots of hard work and a fair amount of fun to go along with it. Here, we have a panel of peeps in the online advertising sector who will assess the current state of play and how the possibility of convergence may be closer than we think.
Read more of SES San Francisco 2011: View from the Top Keynote.
---