Chelsea Adams - Bruce Clay, Inc. Blog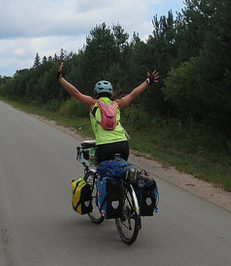 Chelsea Adams on Google+

@ChelseaBeaAdams on Twitter

Chelsea Adams on LinkedIn
Chelsea Adams is a long-distance cyclist, aspiring cob house builder, schema/analytics/algorithm obsessor and senior content writer at Bruce Clay, Inc. Chelsea would love to be stuck on an island with Avinash Kaushik, Ben Folds, Geoff Lawton and the world's largest Apples to Apples deck.
Posts by Chelsea Adams
---
November 2, 2016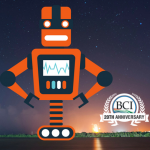 Need more input? Like Johnny Number 5 eats the Encyclopedia Britannica in the 1986 gem "Short Circuit," as optimizers we are constantly looking for more input.
Google Analytics tracking codes are one way we can track how recipients are interacting with our content.
Also known as UTM codes, tracking parameters or custom campaigns, Google Analytics tracking codes are custom tracking parameters that communicate granular information about how visitors interacted with your calls to action to arrive at your owned properties.
This guide describes:
• When to use a tracking code
• How to format a tracking code
• Favorite tools for building UTMs
• 7 essential guidelines for formatting tracking codes
Read How to Build a Google Analytics Tracking Code.
---
June 3, 2016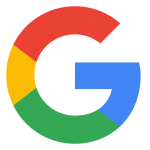 When a user enters a search query, the search engine's number one goal is to return results that are high-quality, relevant and able to best give them what they want. One of the 200+ factors Google takes into consideration to determine which webpages best fit the bill is PageRank.
So what is PageRank? PageRank (PR) is a calculation, famously invented by Google founders Larry Page and Sergey Brin, which evaluates the quality and quantity of links to a webpage to determine a relative score of that page's importance and authority on a 0 to 10 scale.
Read about how PageRank is earned and transferred.
---
April 7, 2015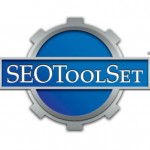 You may have heard of the SEOToolSet®. SEOs have been using it for technical and organic search engine optimization since 1997.
But have you heard of the free SEOToolSet — SEOToolSet Lite?
In March we rolled out the newest generation of the SEOToolSet, built from the ground up and full of new tools our SEO analysts asked for and vetted. SEOToolSet 6 has two tiers — Lite and Pro, and today we want to introduce you to the tools available to you for free in SEOToolSet Lite. There's no credit card required to sign up for SEOToolSet Lite, and there's no software to download. Just create a username and password, supply an email, and get instant access to four diagnostic tools for a single website project.
Learn about the tools available to you in SEOToolSet Lite: A Free SEO Tools Suite from Bruce Clay, Inc.
---
March 18, 2015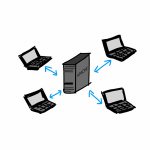 Getting a custom 404 error page up and running on the Apache Server is a five-part process. In this post we cover parts 3, 4 and 5 of this process; determining what type of server you're using and amending your .htaccess file to tell your Apache server to deliver a custom 404 error page, and testing. If you're using an Apache server — read on!
Read How to Configure a Custom 404 Error Page (Apache Server Edition).
---
February 17, 2015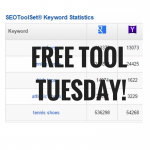 Use our free on-page optimization tool to analyze your competitors' on-page SEO optimization, and your own. A free SEO tool from Bruce Clay, Inc.
Read Free SEO Tool Tuesday: On-Page Optimization Tool Improves Organic Ranking Elements.
---
February 10, 2015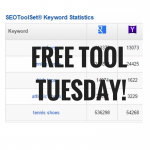 The KSP keyword research tool offer you a thorough, well-rounded view of keyword volume, competition, and context. Learn how this tool works, and seven ways this tool can help you with silong, competitive research, CRO, and more.
Read Free Tool Tuesday: 'SEO KSP' Keyword Research Tool.
---
January 27, 2015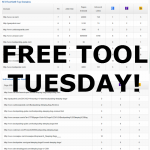 The Top-Ranked Websites by Keyword tool – a 100% free SEO tool from Bruce Clay, Inc. – is a great tool if you're looking to tackle the keyword-laundry-list-vetting second part of the keyword research process.
Here's how it works, what it tells you, and why you might want to consider using it.
Read Free SEO Tool Tuesday: Top-Ranked Websites by Keyword Tool Vets Your Keywords
---
January 6, 2015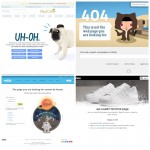 Whatever baby wants, baby gets. Unless baby mistypes a URL — then baby gets a 404 error page.
So, what do we do? Turn adversity into opportunity, of course!
I like to think of the 404 error page as your damage control page. Your customer just tried to go to a page on your website, and now they are faced with disappointment. The 404 error page greets them immediately at their peak moment of disappointment – what a perfect opportunity for you to tell them you could care less with a machine-generated white-screen error message. Said no one ever. This is your time to deflect those bad feelings and offer a solution that inspires positive feelings!
Follow these five steps to create a custom 404 error page that makes your customer feel like you're there for them, even when your content can't be.
Read How to Design a 404 Error Page that Saves a Sale.
---
December 17, 2014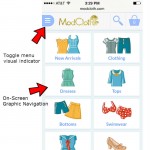 The navigation of your mobile site helps visitors – and search spiders – find what they are looking for. Build an intuitive navigation that is easy to use and your visitors will be headed toward happiness in no time; build a navigation that is frustrating or confusing and your visitors will be headed straight toward someone else's website.
So, how can you create a touchscreen-friendly mobile navigation that serves your consumers on the go?
Read 6 Mobile-Friendly Navigation Best Practices to learn more.
---
December 3, 2014
Our new-and-improved SEO tutorial is an ethics-based online training course created to help online marketers understand and apply industry best practices.
At 19,982 words, the course is deliberately thorough. Those new to search engine optimization are invited to read from beginning to end for an all-in-one ramp up. For those with more optimization experience, we've split the course up into 18 steps and 18 individual pages to make it easy to navigate straight to the section that's most relevant to your needs.
Learn more about how our New SEO Tutorial Encourages Active Learning.
---