SMX West 2012: Does Google Favor Brands? An In-Depth Look
Moderator: Danny Sullivan, Editor-in-Chief, Search Engine Land (@dannysullivan)
Speakers:
Bryson Meunier, Director, Content Solutions, Resolution Media (@brysonmeunier)
Mark Munroe, Senior Director, SEO, Reply!, Inc (@markemunroe)
Aaron Wall, Author, SEO Book (@seobook)
Tony Wright, CEO, WrightIMC (@tonynwright)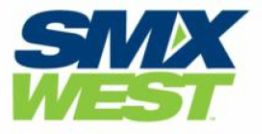 Setting aside whether Google loves brands or hates brands or whatever, what should webmasters and marketers do about it? Our hashtags for this session are #smx #13B. Aaron's up first.
Brands: The Question
It's not if a small site can succeed against all odds, it's what are the trends and biases.
Classical relevancy signals: domain name, anchor text, link diversity, keyword
Search Behavior: search volume and CTR, few back button clicks, repeat visits, query chains
Passive User Monitoring
In 2008 it was clear that small sites and big brands were treated differently, with small sites being more suspect. The Vince update in 2009 showed that big brands could rank better for generic terms.
Yahoo! Clues Beta shows searches people perform before and after other queries. Query strings influence how sites rank.
There are multiple areas where we can observe different treatment by Google:
Paid links: Some webmasters get emails that Google has detected abnormal links into a site so please clean it up. Other sites just get penalized, no warning.
Doorway pages
Content farms: Google's explained different reasons for how they penalize or remove penalties. Seems like it's not equal treatment.
Affiliates: In general, sites that directly profit from traffic may need to provide more evidence of good faith before they are reconsidered.
No business starts as a big brand – everyone starts from scratch.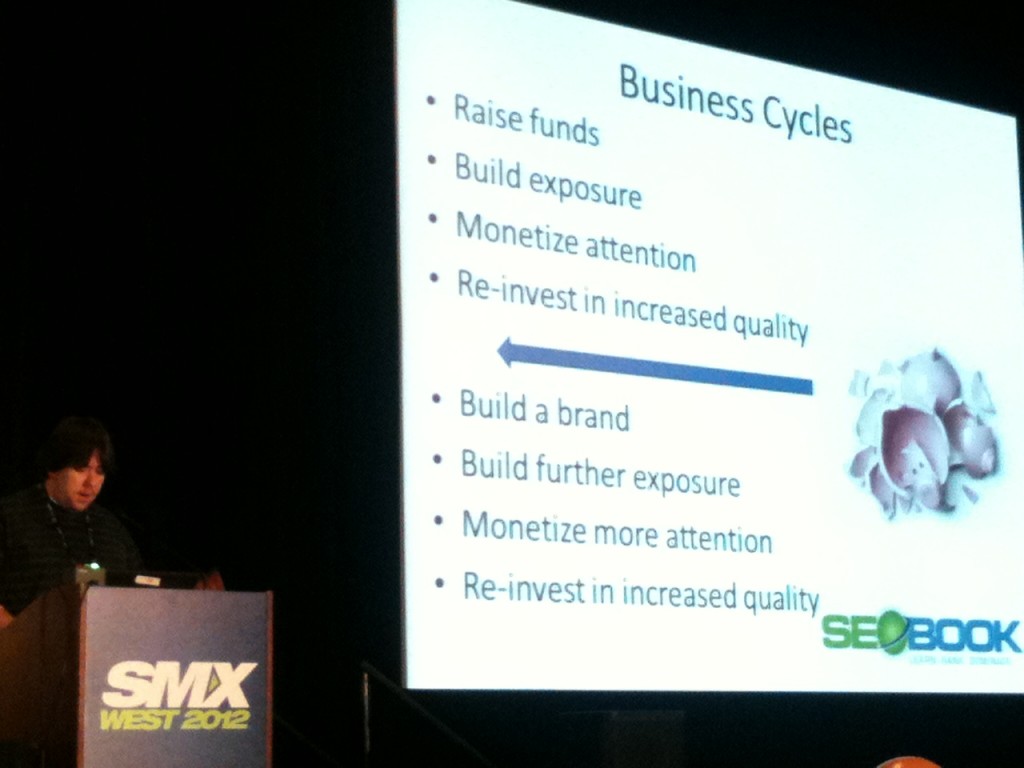 Pricing risk: About.com was hit by Panda. Profit declined by 2/3. Shut down due to Panda. When they were for sale, Google bid on it. Started by an SEO. Purchased an old site. Funded by Google Ventures. Googlers helped with the project.
Google Leans Into Brand:
legal risk
minimize duplication
better user experience
business partnerships
more complete ad cycle
Attention, interest, desire, action
Google as a Content Host: YouTube, Google+, Google Books, Google Places, etc.
Bryson steps up next. There's not a big brand bias happening at Google, will be his standpoint.
The arguments for:
Google admits it.
Brands rank above non-big brands.
This is a hasty generalization. Don't rush to conclusions without a full view point. Traffic is a better measure of Google bias than ranking. SEMRush gives a ranking to every site on the Web.
We're all looking for brands, so Google's trying to give them to us. Google doesn't favor brands – people do. Matt Cutts explained that quality and authority focus is the reason brands are performing well, not "brands" as they are.
Takeaways:
Don't believe the hype. There's no Google brand bias.
Move quickly – that's an advantage you have that big brands don't.
Build your brand but focus on trust, authority and quality.
Make your brand something searchers are already looking for.
Use ranking factors that large brands won't.
Work on your business model.
Don't get complacent.
Staff appropriately.
Use words people are searching for.
Don't handicap your site.
Make SEO a priority from the CEO.
Kill your SEO idols. Not literally. Argument from authoirty is a logical fallacy.
Give Google a break. They are a large company with many stakeholders and still manage to focus on user experience in search results.
Mark Munroe takes it away. He agrees with both standpoints taken above. He doesn't believe anything has been hard-coded into the algorithm that lists brands to favor. They like diversity but want to make sure big brands are represented.
Marketing advantage > behavior advantage > link/citation advantage > and around
How to offset the brand advantage?
Non-branded sites need to work harder to offset the inherent advantage. They need to be obsessive about improving the search experience. Your SEO strategy should not just be rankings, but to get results listed that fulfill the promise. Fulfilling the promise will result in better user metrics on the SERP and for you. Focus on Title and description that ensures your result doesn't show up for queries that aren't relevant. Don't put "reviews" in Title if you don't have reviews.
The search experience starts on your page. The info architecture is extremely important, and can draw on SEO visitors and promote interaction. Amazon is a good example doing this. Every link on the page is relevant.
Pay close attention to your metrics from search, like bounce rate, user engagement, pages per visit, what is and isn't getting clicked.
Tony finishes it off. He'll be looking at things happening offline that tie in here. He wants to start off nbeing explaining we're talking about brand awareness in talking about "brand."
Chicken or the Egg
Fact: comp[anies with high brand awareness tend to rank for more kewyord terms and get more traffic from Google.
Google may or may not favor brands intentionally. Frankly, he doesn't care. What matters is does the searcher favor the brand, and are you where the searcher is looking.
Why do consumers love brands? The average consumer mentions specific brands over 90x per week in convos with friends, family and co-workers.
Companies with brand awareness actually think differently than those without:
The bigger the brand, the more problems  they have on paper. SEO is usually not a priority.
Most have backlink profiles others would kill for
On-page changes are extremely slow to occur.
It's not the decision makers money, most most cases.
Brand Aware vs. Not so Aware: Almost every time, perceived brand with most awareness had higher domain authority. Why? Brands are using offline branding to create more links.
Radio, TV, Print, Display + Content Marketing
Are you promoting something linkable in your radio advertising? Specials page that doesn't charge them. Push them to an interesting article. Use a static landing page that can be linked to.
Don't be a logo police. Understand the difference between protecting the brand and alienating your online audience.
Who are your influencers? The move to customer service based social media is strong and will have SEO dividends. Even the most jaded influencer loves to hear from the perceived brand leader. Influencers can make or break rankings for a single term, sometimes single handedly.
Posted by Virginia Nussey on February 28th, 2012 at 2:55 pm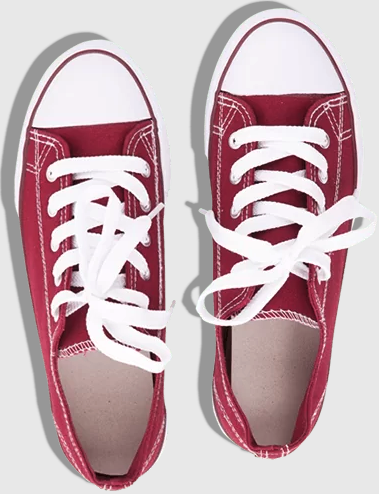 Still on the hunt for actionable tips and insights? Each of these
recent SEO posts
is better than the last!
Bruce Clay
on August 31, 2023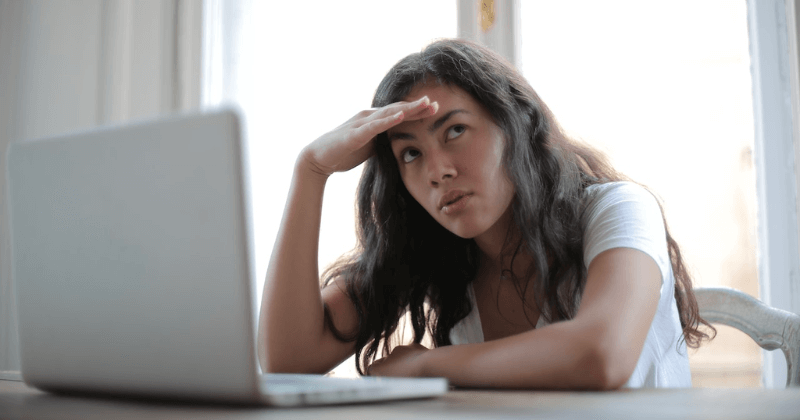 Bruce Clay
on August 24, 2023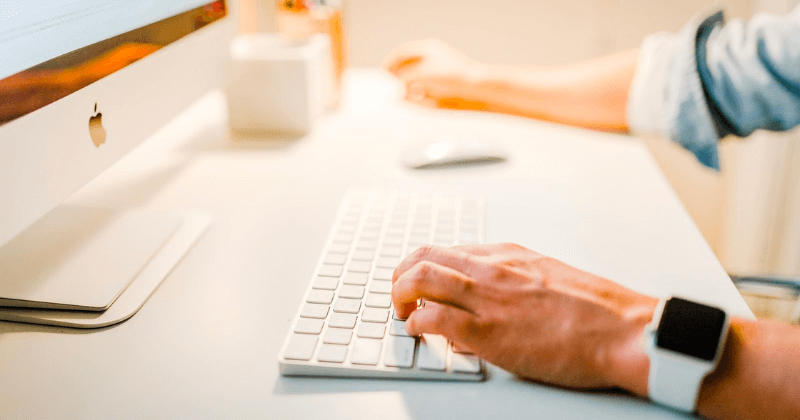 Jessica Lee
on August 17, 2023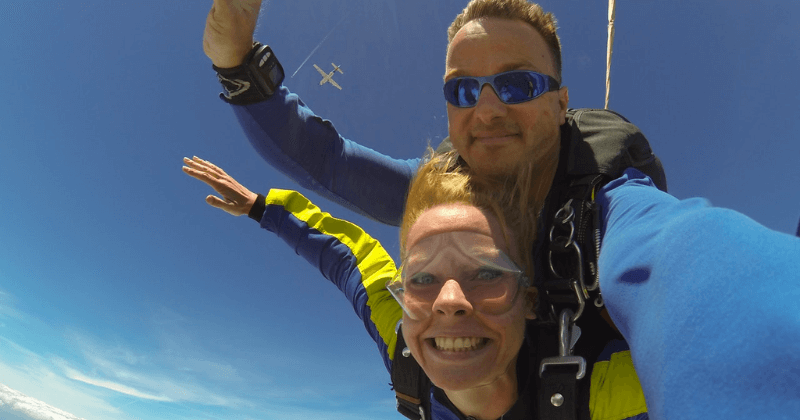 2 Replies to "SMX West 2012: Does Google Favor Brands? An In-Depth Look"