SMX East 2015 Archives - Bruce Clay, Inc. Blog
November 3, 2015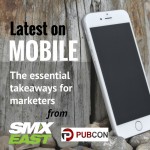 It's becoming clear that mobile friendliness is more than a responsive website that gets a passing grade on the Mobile-Friendly Test.
The concept of mobile friendliness covers increasingly advanced digital media territory:
Mobile apps: Do you have a mobile app? Is it indexable by Google?
Mobile conversions and personas: Is mobile traffic failing to convert? That's to be expected if mobile personas, mobile-specific conversions and calls to action haven't been identified.
Mobile advertising: Are you utilizing mobile search PPC features like call extensions and call-only campaigns?
At the two biggest search-industry conferences this fall, SMX East in New York and Pubcon Las Vegas, search engine reps and renowned speakers covered the full range of Digital marketing topics, especially mobile issues — everything from Google's mobile-focused features to app indexing to mobile ads. We published 46 sessions and keynotes from these conferences on the BCI blog. Here we distill the most important news and advice related to mobile.
---
October 29, 2015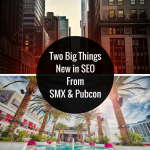 Digital marketers and SEO industry insiders demand outstanding content for their limited blog-reading bandwidth. So, for SEOs who want to get straight to the heart of the latest game-changers, we offer our humble opinion that during the SMX East and Pubcon Las Vegas conferences of the last month, there were two big comets that hurtled from the sky, signaling changes to the SEO landscape forever:
Machine learning algorithms ranking content based on searcher behavior feedback
Predictive search serving searchers content before they ask
Here's your front row seat to what's new in SEO straight from SMX East and Pubcon Las Vegas.
---
October 2, 2015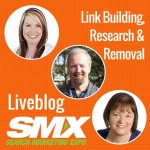 In April 2012, Penguin made its first flaps in the Google algorithm. Since that time, the SEO industry has developed stringent best practices around link building, also called link acquisition or link earning, and backlink auditing and SEO penalty removal. This SMX East session starts with timeless methods to attract quality relevant links through content marketing. Then speakers lay out the backlink auditing process and critical tools for link research and removal.
Read the liveblog coverage of Link Auditing & Best Practices for Authoritative Link Building.
---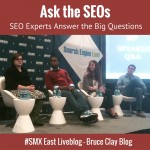 Four expert SEOs take the stage in SMX East 2015's "Ask the SEOs" session. This popular Q&A free-for-all is where the audience can ask them … anything! But first, let's meet the SEOs:
Mike King (@iPullRank), founder of iPullRank
Hillary Glaser, SEO manager at Campbell Ewald
Cindy Krum (@Suzzicks), CEO at MobileMoxie
Marshall Simmonds (@MDSimmonds), founder and CEO of Define Media Group
Read all the questions and answers in the Ask the SEOs liveblog.
---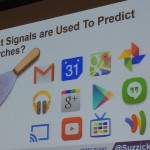 Google Now continues to grow and adapt to the way people search, and it's important for search marketers to keep up. In this Day 1 SMX session, Cindy Krum covers these changes and what it means for marketers.
Our Liveblog is up.
---
October 1, 2015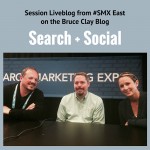 You can't think about search without thinking about social media, and vice versa. They complement each other, and both initiatives come out stronger when they're approached holistically. In SMX East's "Better Together: Search + Social," Casie Gillette, Eric Werner and Geoff Colon share their tips straight from the search and social trenches.
Read the liveblog.
---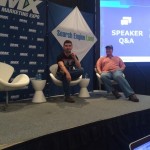 Google and Bing are in the same hot seat as SMX East attendees get to ask them anything. Our liveblog covers this insightful session with Bing's Duane Forrester and Google's Gary Illyes and reveals big news about the latest Panda update from Gary.
Read our liveblog of Meet the Search Engines.
---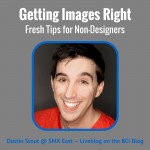 Full disclosure: I am pretty excited for this session, "Getting Images Right in Paid Search." The content team here at Bruce Clay, Inc. makes a lot of images for search and social, both for content marketing and ads. We test a lot of tools, sites and tactics when it comes to designing images. We're pretty good at what we do, but there's always room to learn more — especially from a first class designer like Dustin Stout, the CMO at Weal Media in Los Angeles. Stout does not disappoint.
"Let's put design talk into real world talk. This is for people who are not designers, but use visuals in their marketing," Stout says. Then he proceeds to teach us:
3 facts about modern visual advertising
What are the visual indicators of trust
How to achieve visual trust in your images
Many recommended sites for free photos, design tools and more
Read the full liveblog!
---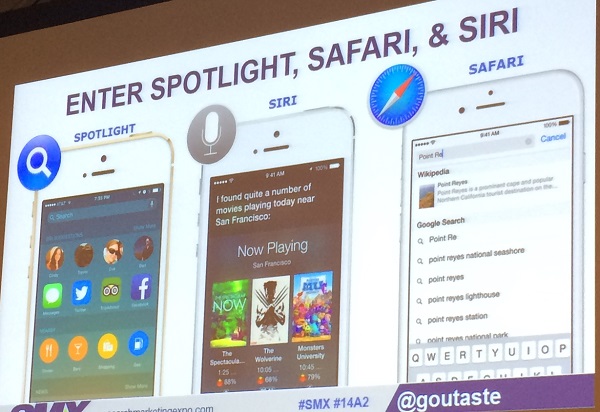 Search engines Google, Bing and Yahoo step aside because Apple's changing things up. This insightful SMX session discusses the many ways Apple products have impacted search and what to do about it as marketers.
---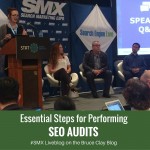 An SEO site audit lays the groundwork for everything an SEO does to ensure maximum search visibility. This SMX East session covers the most important audit tactics and best practices for making sure your SEO efforts are having the optimal impact on a site's performance.
Read the liveblog: Essential Steps for Performing an Effective SEO Audit
---