Bruce Clay Blog - Sara Borghi
January 23, 2013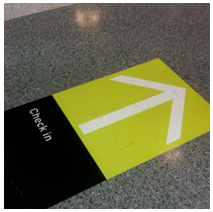 On December 12th, Facebook introduced the "Nearby" feature for its iOS and Android apps. Facebook Nearby allows users to find a place near them based on the recommendations of their Facebook friends.
The app now includes:
Recommendations
A rating system
A search box made of different business categories
Functionality that allows users to contact a specific business directly.
Only those businesses (large or small) that have a Facebook Page will be listed.
With the Nearby feature, Facebook aims to become a personalised local recommendation engine.
Read more of Facebook Turns Local Recommendation Engine with Nearby Feature.
---
October 21, 2011
---
September 27, 2011
Hello everyone! Last week has been pretty HUGE for the Bruce Clay Australia family as three very cool people have joined the team… Holly Jeremy Adam To get to know them better, we asked them 4 questions about their background and their passion for SEO. They were very keen to share a little bit of [...]
---
September 7, 2011
YouTube is the most popular video sharing community on the web. Not only, is it the third most visited website in the world but it is also considered the second largest search engine after Google. YouTube receives over 3 billion views every single day (including over 100 million views per day for Google mobile) and [...]
---
August 16, 2011
---
July 19, 2011
One of the basic rules of web usability is to place mutually reinforcing elements next to each other, with the goal to clarify a specific statement or idea, to lead to a conversion, to acquire a lead or to improve the overall look and feel of the page. Think about testimonials next to hotel rooms [...]
---
June 27, 2011
Only a few weeks ago we were discussing the evolution of social signals and implications from a SEO perspective on our blog. During the past weeks, the discussion around the influence of Social signals on search has been extremely hot, and some of the top search experts have shared their knowledge and experience on the [...]
---
May 17, 2011
Leonardo Da Vinci is not only one of the smartest thinkers of his time; he was also a man that had the power to make things happen. He understood very well that having an idea or an intuition is one thing but proving it is another: he was the master of scientific method and passionate [...]
---
May 12, 2011
On April 14 I had the opportunity to attend the keynote held by SEO guru Rand Fishkin on White Hat and Black Hat SEO at SMX Sydney 2011. This is, without a doubt, one of the hottest topics in the industry and certainly one which Rand enjoys talking about. After watching him present back in [...]
---