The REAL Cost of SEO: A Practical Guide to SEO Pricing and Services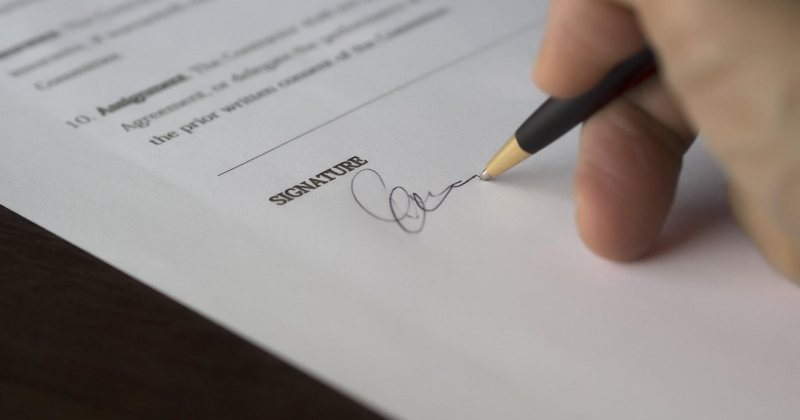 Feeling stuck or confused when it comes to choosing an SEO vendor?
You're not alone.
Each year, countless businesses are solicited by not-so-great SEO vendors who promise the world.
And, when shopping for the perfect partner, it can be hard to know how to compare SEO services and pricing.
The truth is, that there are countless factors that come into play when selecting the right SEO vendor, and that's what we'll talk about today.
In this practical guide, you'll discover:
How Google feels about SEO
What to watch for when selecting a vendor
The types of services you can expect from an SEO agency or consultant
The factors that may impact SEO pricing
Jump to a section here:
How Google Views SEO: A Two-Way Partnership
Over the years, the search engine optimization industry has seen its fair share of "snake oil salesmen" — bad actors who sell fraudulent SEO services or services that provide little to no value to a business (or actually harm a business).
Google is well aware of spammy practices that aim to game the system, which is why it created its Webmaster Guidelines. Good SEO partners will always adhere to the basic webmaster guidelines set forth by Google.
And while Google has worked hard to weed out bad actors who game the system, it also understands the value of quality SEO.
That's because quality SEO improves a website through practices that work in partnership with the search engines to help them do a better job.
After all, the search engine's main priority is to surface the best, most relevant result for a search query. And SEO can help websites to be relevant.
Consider the following video on how to hire an SEO from former Googler Maile Ohye, where she says:
One basic rule is that in a majority of cases, doing what's good for SEO is also doing what's good for your online customers. Things like having a mobile-friendly website, good navigation and building a great brand.
Over the years, Google has forged a close relationship with the SEO community. So we know that Google supports a business hiring the right SEO to improve a website and create a good user experience.
In fact, even Googler Gary Illyes has mentioned our SEO services in the past:
What to Look For in an SEO Vendor
When looking for an SEO services partner, you want a fully engaged, knowledgeable marketing expert.
Remember the goal is top rankings in the search results. To appear in the top three positions against millions of competing pages is no easy feat. It requires a lot of SEO expertise and a mindset of quality.
You cannot compromise on either or you simply will not succeed. We strongly believe that hiring cheap compromises both, that luck is simply not enough, and that a compromise is many times a waste of your money.
Here are some things to consider:
Do they have a marketing mindset and understand digital marketing holistically?
Do they have a good reputation and expertise?
Are they in it for the long haul?
The Marketing Mindset
No, SEOs aren't just super technical practitioners who understand SEO only (at least that's not really what you want). A good SEO vendor should understand how search engine optimization fits into the bigger picture of marketing your business to your target audience.
That means understanding your business inside and out and also understanding the people you are trying to sell to. This impacts everything in SEO from keyword selection and site navigation to content creation and beyond.
The other thing to consider is that SEO does not exist in a silo. Much of it impacts other areas of your digital marketing and vice versa.
In order to be most effective, businesses do not want to put all their eggs in one basket by relying on just one type of digital marketing, whether SEO, PPC, or other. And SEO vendors should agree with this.
All of these together work symbiotically to make your marketing, branding, and visibility online soar.
Expertise and Reputation
Reputation is earned, and that reputation takes expertise, and that expertise is based upon significant investment. Not everyone has 10,000 hours in this field (what many consider "expert" level).
BTW, our standard is 20,000 hours (10 years) or more. And this is the experience level we require of our SEO team and their colleagues, not just the lead techie.
Also, keep in mind that some digital marketing agencies have been able to scale because they hire entry-level staff. Often, these employees are given inflated SEO titles, but it's unlikely that they have significant knowledge. In other words, the company gives a title to fool the consumer into thinking they are getting expertise.
This is why expertise is one of the most important things you can look for. That said, experience and knowledge can be expensive.
Keep in mind that Google makes thousands of changes to Google Search each year, and has buildings of people just "inventing" new things for its search product.
A quality SEO spends at least a few hours each week keeping current on the industry and trends.
There is no boilerplate template for digital marketing, so things must continuously be learned, tested and measured. Having a well-rounded SEO vendor is critical, and you ultimately pay for that.
Each company will have its own commitment to expertise and developing it. And each company has a different opinion of the value of your business and the commitment to quality versus just "punching a clock."
Here are some questions you can ask to evaluate a prospective provider's expertise and reputation:
How long has the SEO vendor been in business?
Does the internal team have sufficient skills and experience?
Does the company demonstrate thought leadership through speaking engagements, expert content, or training?
Does the company have a good reputation among its peers in the industry?
Has the company received any awards or accolades?
How involved is the company in the industry's professional organizations and/or professional community?
Does the company have SEO methods that are in keeping with Google's quality guidelines (aka "white hat" practices)?
Does the company demonstrate SEO success by ranking well for their targeted key terms, such as "search engine optimization"?
What sort of clientele does the SEO company serve?
What sort of results has the SEO vendor achieved for its clients through its methodology?
How do they relate to their prospects? Do you feel like you're getting good guidance or being "sold?"
How do they work with new clients? Do they have formal onboarding processes to ensure everything goes smoothly? Do they have dedicated account managers so communication stays open? Do they offer training on their services?
In It for the Long Haul
Any good SEO vendor will want to work with you for as long as is necessary to help you achieve results. That doesn't mean you should be strung along while the SEO performs meaningless tasks.
SEO is a labor of love that is made up of many different phases, depending on where your website is when you engage with the vendor. For example, you might initially have a penalty from Google that needs to be addressed before anything else.
Or, you might be in the midst of a site redesign, and you need to engage an SEO to ensure the website is set up for success moving forward.
Results can sometimes take time, and they should be demonstrable. I have seen a lot of sites that have a long list of deliverables without any quantifiable set of measurements.
"I will edit eight pages per month" is not ROI, and is obviously easy to perform.
That said, there are many companies claiming to do SEO that simply punch down a list of tasks without any results other than that you paid for the tasks to be done.
Also, keep in mind that many websites will go into maintenance mode with an SEO vendor after a period of time. However good SEO partners will always be looking for new ways to improve the site on a regular basis.
In other words, it shouldn't feel like the SEO vendor is in it just to make a quick buck.
According to research conducted by Rand Fishkin (that's now about five years old but still interesting nonetheless), most agencies and consultancies don't require a minimum term of engagement, but those that did mostly aimed for four to six months.
Here's the agency data: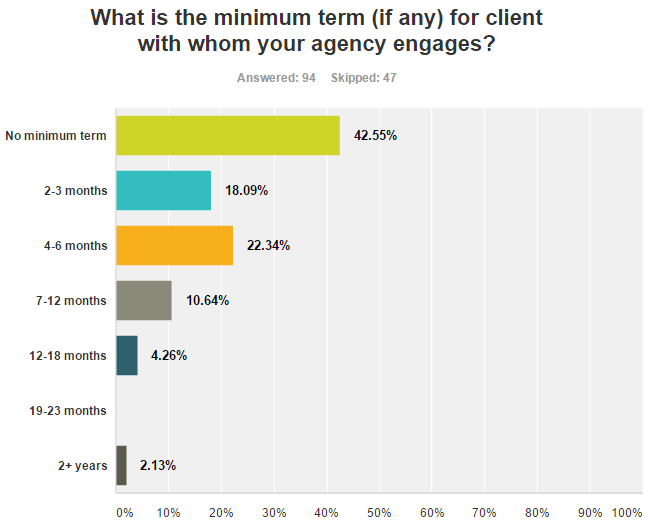 And this is the consultancy data: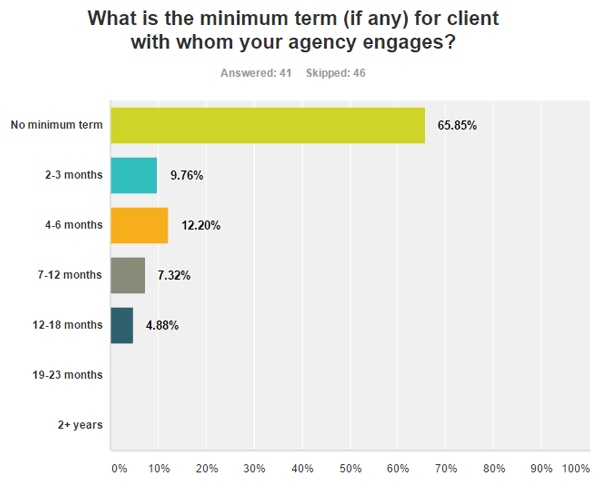 While not being locked into a contract can be a nice thing for clients, it's important to understand there is a timeframe in which to achieve results. Google recognizes this, too.
From the Google video shared earlier on how to hire an SEO:
In most cases, the SEO will need four months to a year to help your business first implement improvements and then see potential benefits.
Learn more about how to evaluate an SEO company.
The Process of Hiring an SEO
Now that you know some of the things you should look for and some of the steps to identify a good candidate, you may be faced with the decision to hire.
Sometimes, you run into vendors that decide you're not a good fit based on their initial consultations with you. This can actually be a good thing for your business. The vendor may then recommend a trusted partner who better suits you.
Google also shares a five-step process for hiring an SEO here, which includes asking questions such as:
Can you show me examples of your previous work and share some success stories?
Do you follow the Google Webmaster Guidelines?
Do you offer any online marketing services or advice to complement your organic search business?
What kind of results do you expect to see, and in what timeframe? How do you measure your success?
What's your experience in my industry?
What's your experience in my country/city?
What's your experience developing international sites?
What are your most important SEO techniques?
How long have you been in business?
How can I expect to communicate with you? Will you share with me all the changes you make to my site, and provide detailed information about your recommendations and the reasoning behind them?
See if the SEO is interested in you and your business. If they're not interested, find someone who is. Your SEO should ask questions such as:

What makes your business or service unique and valuable to customers?
Who are your customers?
How does your business make money, and how can search results help?
What other advertising channels are you using?
Who are your competitors?
Warning Signs with SEO Service Vendors
A majority of the vetting process falls on you. You want to ensure you're equipped with the knowledge and questions to help weed out vendors to find the best fit.
Google points out some things to be wary of, such as:
SEO firms and web consultants or agencies that send you emails out of the blue
Guaranteeing a No. 1 ranking on Google
Secrecy, or not clearly explaining what they intend to do
Here's our list of things to watch out for when hiring an SEO:
Any company stressing links as the main selling point of their SEO strategy. Of course, there are companies that work to gain organic links through quality tactics. And companies that specialize in analyzing link profiles to get rid of bad links. These are typically fine. But any company that is in the business of buying or selling links is not one you want to be involved with.
Any company whose work is performed off-shore. You don't want an army of SEOs whose native language and culture are not the company's target or first language/experience.
Any company charging dirt cheap for SEO. They might be under-committed to education and service, or worse. Cheap SEO can hurt your business.
Any company promising "top rankings." This is extremely difficult for any company to guarantee, and the promise itself is essentially cheapening the discipline of SEO.
Any company not reasonably ranked for their major keywords themselves. The "cobbler's child" excuse is invalid.
And make sure you always:
Ask for references if you're not familiar with their reputation.
See if they have had a lot of complaints filed against them.
Find reviews about the company online.
What Services Should You Expect from an SEO?
Again, different agencies or consultants have different service models, including everything from SEO training and services to PPC and beyond.
Depending on the situation your website and business are in (and this is the job of the vendor to assess), the SEO strategy may vary.
You might, for example, start with an SEO audit. This is often the best way to assess where the site is at today so that your vendor can recommend a strategic path for the next steps.
Just some of the services you might engage an SEO vendor for include:
SEO website assessments and audits: Assessments offer an in-depth critique of your website, identifying areas where improvements can be made. This service enables businesses to quickly learn the factors search engines deem important when ranking their website. Sometimes, the business is responsible for implementing the changes; other times, the vendor can do it for you.
Search engine penalty assessments: These assessments, in particular, are aimed at identifying where repairs are needed to overcome a rankings drop. The vendor helps identify what caused the penalty (usually related to Google's Penguin, Panda, or other algorithm updates) and receives a "repair roadmap" that lays out actionable procedures for correcting problems with the site.
SEO consulting: These tailored engagements ensure that your staff reaches its goals through SEO best practices. Often, the vendor will provide SEO consulting services hourly or on retainer to be used whenever you have an important question or need additional expertise on a difficult problem you're having with your website.
Full-service SEO programs: A full-service program can mean different things with different vendors, but may include a unique combination of search engine optimization consulting, SEO training, managed services, including the implementation of recommendations, and more.
Local SEO: These types of SEO services are centered on the unique needs of local brick-and-mortar businesses that need to be found online by people in the regional area that the business serves.
Website content audits: Content is the backbone of any good SEO program, and a content audit can identify areas of content strengths and weaknesses on a website, and recommend ways to make the website better suited to its audience and SEO goals.
Content development: In order to become a relevant choice for any given query, and to show up on a search engine results page, a website needs to have targeted, quality content to support its SEO strategy. Content development services can help you get there.
PPC management: SEO and SEM are a perfect complement to one another. Together, they allow for more visibility on the search results page than just one discipline alone.
According to Rand's survey data shared earlier, the most common services offered by an SEO agency several years back were as follows: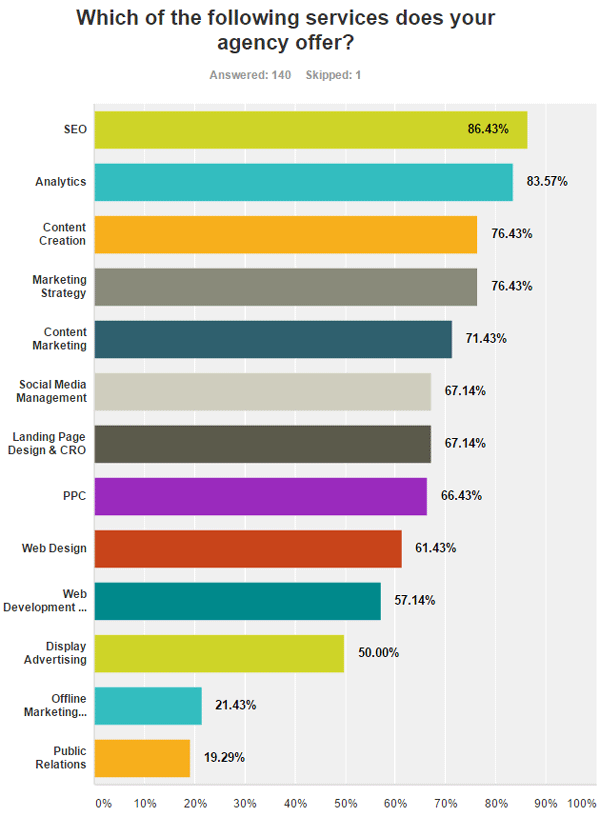 How SEO Pricing Is Set
Once you've decided what type of SEO services you're after, your next question is likely around pricing.
The cost of SEO can vary depending on many factors, such as if it's an agency versus a consultancy, geographic location, years in business, reputation and size, and more.
Think about the costs of a typical day at an SEO company. There is research time, education time, and project management time factored into every client's plan. As a client:
Do you expect answers?
Do you expect reports?
Do you expect service?
If you want all of this, expect a time investment by the company. To make a real impact, your SEOs should be spending significant time on the things that matter to a great SEO service. They must deliver expert services yielding top-shelf quality.
Anything less than a good chunk of hours towards providing stellar service will likely produce a less-than-satisfying experience.
Pricing: SEO Agencies vs. Consultants
There are differences in how an SEO consultancy may charge versus an SEO agency.
Generally, consultancies don't have as much overhead as agencies. SEO consultants may have minimal operating costs but also may be bound by the hours of the day that they can work, which may impact pricing. Often consultants have a day job, or it's a side gig.
Other factors that may impact an SEO consultant's prices are years of experience, reputation, and so on.
An agency, on the other hand, must recover not only the cost of the individual working on the project but also the cost of managing the individual and other business-related expenses like building rents, equipment, and more.
Will pricing be lowered now that many digital marketing companies are working from home? That remains to be seen, but I think that increased demand may result in the opposite.
What we do expect is a slew of new "SEO experts" to be working as consultants as a way to reinvent themselves in the face of COVID-19. This is something to watch out for.
Other factors that may impact an SEO agency's pricing are years in business, the level of expertise of the staff, access to different specializations, ongoing education and training to stay on top of search engine changes, and more.
According to Rand's survey data, the majority of SEO agencies charged a monthly retainer, while hourly rates and fixed project-based fees came in second: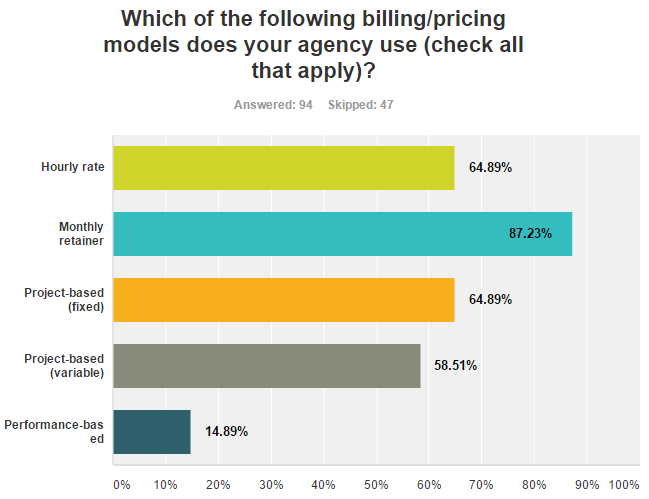 The same goes for SEO consultants: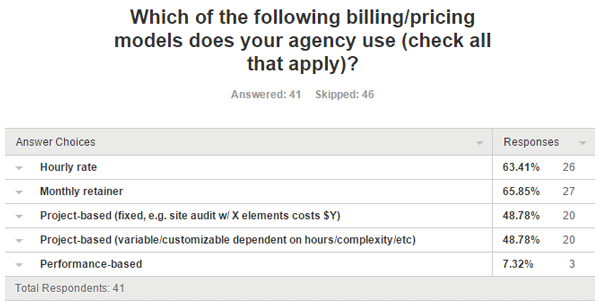 The Cost of SEO: Not So Black and White
Comparing SEO vendors can be tricky. There is no set of agreed-upon "standards" for service and measurement of performance. This can confuse the potential client about what they are supposed to be buying.
It can be easy to get wrapped up in price comparison shopping as you're looking for the right provider. But as you can see, there are several factors that impact SEO pricing.
When looking for the perfect fit, the top-level items you should consider include:
The ethics of the company and whether they follow search engine guidelines
Their level of expertise, including years in practice, reputation, skill sets, and knowledge
The services offered, and if you're looking for specialists or a more varied digital marketing program
The type of company, and whether it's a consultancy or agency
If you're looking for an SEO services partner, please contact us for a free quote and consultation. Let's talk.
FAQ: What criteria should I consider when choosing an SEO service provider?
Navigating the sea of SEO service providers can be daunting. To ensure you partner with the right agency or individual, here are the key criteria to consider:
Expertise and Experience
Begin your selection process by assessing the provider's expertise and experience. Look for a track record of successful projects, client testimonials, and a team with a deep understanding of SEO trends and best practices. An experienced provider is more likely to deliver tangible results.
Customized Strategies
One-size-fits-all SEO approaches rarely work. A reputable service provider should offer customized strategies tailored to your business's unique goals and needs. Avoid those who promise quick fixes or rely solely on cookie-cutter solutions.
Transparency
Transparency is non-negotiable. Your chosen provider should be open about their methodologies, reporting processes, and progress tracking. Regular updates and clear communication are signs of a trustworthy partner.
Ethical Practices
Beware of providers that engage in black-hat SEO techniques, which can lead to penalties from search engines. Ensure your chosen provider adheres to ethical practices and follows search engine guidelines.
Proven Results
Ask for case studies or references to verify the provider's claims. A reliable SEO service provider should be able to demonstrate past successes and their ability to improve a website's search engine rankings.
Clear Pricing Structure
Understanding the cost of SEO services is crucial. Avoid providers with vague pricing models or hidden fees. A transparent pricing structure allows you to budget effectively.
Comprehensive Services
Consider whether the provider offers a full range of SEO services, including on-page optimization, off-page SEO, content creation, and technical SEO. A holistic approach often yields better results.
Communication and Accessibility
Choose a provider that is readily available for inquiries and discussions. Effective communication fosters collaboration and ensures your objectives are aligned.
Reviews and Reputation
Research the provider's online reputation through reviews on platforms like Google, Yelp, and industry-specific forums. This can provide insights into their reliability and customer satisfaction.
Analytics and Reporting
A good SEO provider should offer regular analytics reports that measure the impact of their efforts. This data-driven approach helps in assessing the ROI of your SEO investment.
Selecting the right SEO service provider is a critical decision for your business's online success. By evaluating their expertise, transparency, ethical practices, and past results, you can make an informed choice that will improve your website's visibility and drive organic traffic.
Step-by-Step Procedure:
Begin by researching potential SEO service providers.
Assess the provider's expertise and experience through client testimonials and project portfolios.
Ensure the provider offers customized SEO strategies tailored to your business needs.
Verify the provider's transparency in methodologies, reporting, and communication.
Confirm that the provider follows ethical SEO practices and avoids black-hat techniques.
Request case studies or references to assess the provider's track record of success.
Understand the provider's pricing structure and ensure transparency.
Check if the provider offers a comprehensive range of SEO services.
Evaluate the provider's accessibility for inquiries and discussions.
Research online reviews and reputation on platforms like Google and industry-specific forums.
Inquire about their analytics and reporting capabilities to measure ROI.
Consider the provider's communication style and responsiveness.
Ask about their strategy for on-page optimization, off-page SEO, content creation, and technical SEO.
Seek clarification on any doubts or concerns regarding their services.
Make a well-informed decision based on the criteria mentioned above.
Collaborate closely with the chosen provider to align objectives and expectations.
Monitor progress through regular analytics reports.
Evaluate the impact of SEO efforts on your website's visibility and organic traffic.
Adjust strategies as needed to optimize results.
Enjoy the benefits of an improved online presence and increased search engine rankings.
Posted by Bruce Clay on July 27th, 2020 at 3:54 pm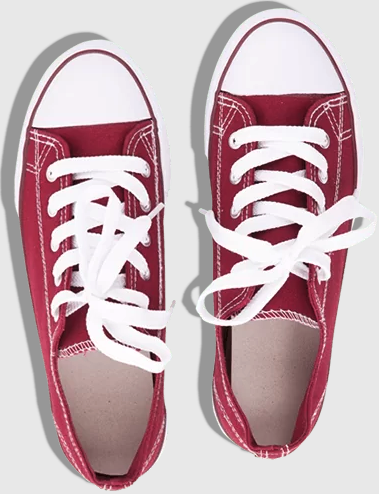 Still on the hunt for actionable tips and insights? Each of these
recent SEO posts
is better than the last!
Bruce Clay
on August 31, 2023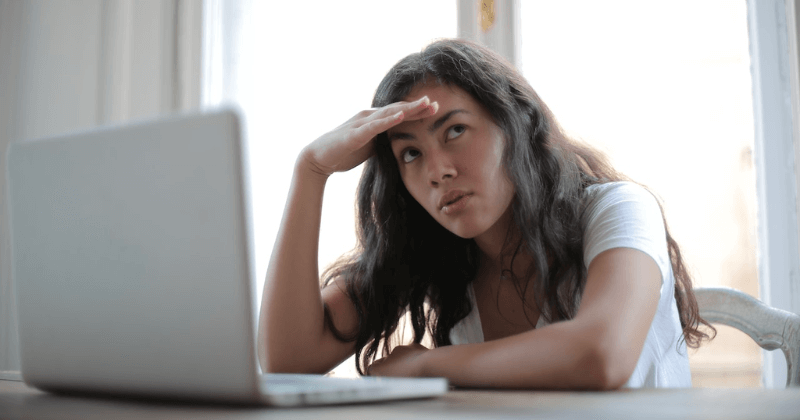 Bruce Clay
on August 24, 2023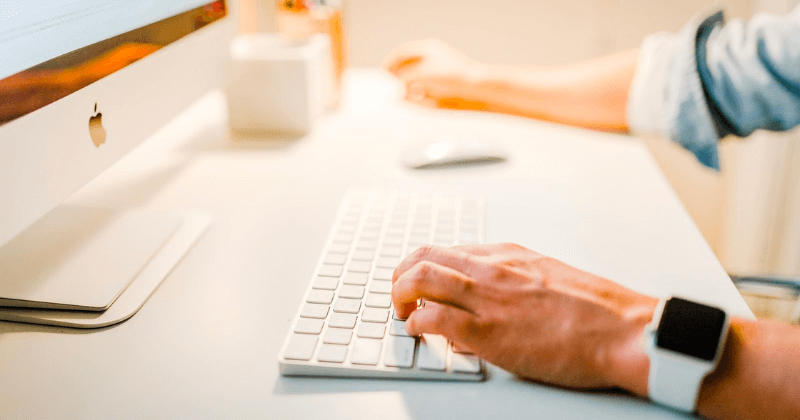 Jessica Lee
on August 17, 2023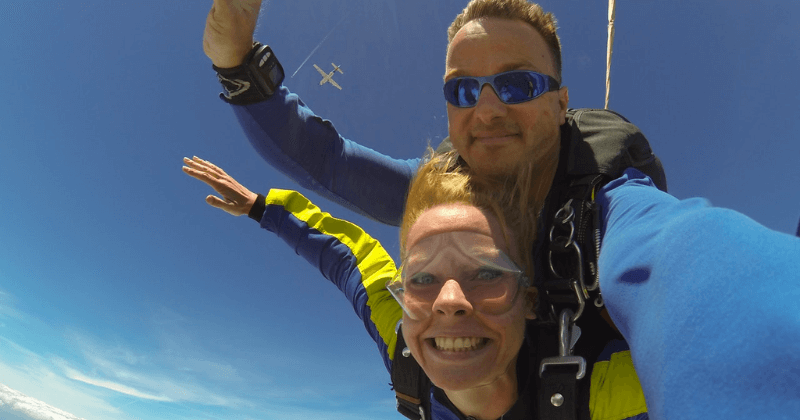 7 Replies to "The REAL Cost of SEO: A Practical Guide to SEO Pricing and Services"