August 28, 2009
Friday Recap: Search on Fire Edition
Just when I thought it was time to start saying our farewells, summer's extending its stay for one last smoldering fling. Yes, half of Southern California is ablaze. Google, always up to join the party, 1) set itself on fire, and 2) is helping to track the situations through Google Maps. It's nothing new, but it is a pretty cool way to utilize crowdsourced data for maps.
Meanwhile, the newest way Google Maps will be enhanced by crowdsourcing was announced this week. Now people who own GPS enabled phones can opt-in to feed their location info to Google, which will be used to figure out how fast traffic is moving. Now, along with highway and freeway traffic congestion, traffic will be reported for surface streets and arterials, too. [Accurate to within 700 meters, no doubt. –Susan]
Over at Yahoo!, they've launched a new search experience with quick access to Search Pad and related queries, enhanced search assistance and additional results enhanced by SearchMonkey. Yahoo! Mail and Messenger also got a boost.
CNET News broke news today that it had obtained a copy of a drafted U.S. Senate bill that would allow the president to disconnect computer networks in the private sector from the Internet if faced with a cybersecurity emergency. Privacy implications and vague language are among the primary concerns of the current version of the bill. The government's so-far unimpressive track record in cybersecurity has led some to question if such authority in the field is deserved. I mean, I'm not convinced they understand the basics: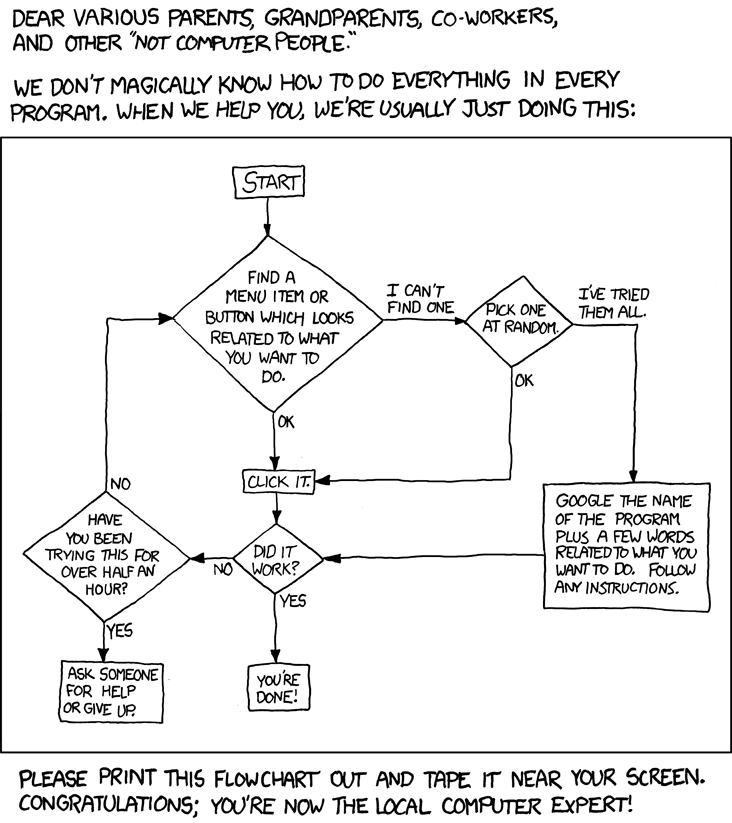 Tech support cheat sheet from xkcd
Time Magazine has released its annual list of the 50 Best Websites of 2009. The list includes everyone you'd expect to be on there, plus a few cool sites I'd never heard of.
Wikipedia plans to add a layer of oversight to the collaborative information site. Trusted volunteers will have to approve public edits to articles about living people. The decision drew criticism from those who see it as a move away from Wikipedia's community roots, while others welcome the change as a way to lessen inaccuracies on the site.
Senator Edward Kennedy passed away this week after battling cancer. Regardless of how you felt about his politics, one of the former senator's accomplishments is hard to argue with. Ted Kennedy was the first member of Congress to have a Web site. I think we can all agree that on that decision, he was definitely on the right side of the aisle.
A film that tells the story of Facebook's humble beginnings has been greenlit to start production in October. Its working title is "The Social Network" — which could either work for or against the movie. [Yawn. –Susan]
On the one hand, social networking gets all the buzz these days. On the other, there's a big portion of people who are afraid of the big, bad social networks that they don't understand. The simplest way to get over this irrational fear can be summed up in one word: education. As Rebecca Kelley put it this week, social media education is needed more than ever before.
A little SEO education while you're at it might not hurt either. If not for you, for poor, confused Fox News. An article called "Top Online Marketing Jobs to Leave You Friendless" calls out SEOs as scammers and typo-domain profiteers. But the best part of it all is the obviously optimized Meta data on the article page.
Google's been in some hot water lately after obeying a court order to reveal the identity of an anonymous blogger. The blogger now plans to sue the Web giant for $15 million, sought because Google allegedly breached her expectation of anonymity.
In the chillier waters of Scotland, the Loch Ness Monster has been spotted in Google Earth! Okay, there's no proof — yet! — just an intriguing satellite image and the love of a good monster mystery. As for debunking myths, you'll want to check out the top 10 usability myths to start whittling away any bad assumptions you may have.
It's an exciting time of year for sport-loving Americans gearing up for the start of the college football season. It's one of the most pure and electric sports seasons on the calendar, and now there's another reason to get a pumped. Games are, of course, always better live, but technology's working to fill the gap. September 12th's USC-Ohio State game will be broadcast in 3-D at theatres in L.A., Dallas and Columbus, Ohio. It's the third-such experiment in applying 3-D technology to live games. Tickets will be given away to fans listening to ESPN radio affiliates.
And finally, in breaking news, a confidential document has just been uncovered which reportedly outlines Google's plan for world dominance. I hope I get an invitation to the picnic!
Things I learned from Boing Boing this week:
---
---
One response to "Friday Recap: Search on Fire Edition"
Leanne writes:


The tech support cheat sheet completely cracked me up. I think that's how a lot of people become computer experts! ;)

@ August 31st, 2009 at 12:38