New SEO Tutorial Encourages Active Learning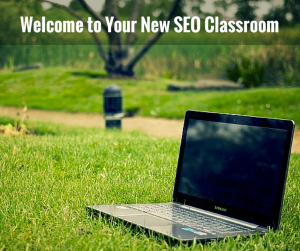 Imagine you show up to work one fine Monday and Bruce Clay is sitting in the desk next to yours with one item on his agenda: teach you the foundations of SEO from the ground up. The lesson plan includes everything you need to get your website ranking, from how to do keyword research, to technical optimization, designing for mobile-friendliness and semantic markup. To help you hit the ground running, Bruce has brought with him free SEO tools to make each of your lessons active; not only are you learning about keyword research, you're actually doing keyword research. You're not just learning about the importance of a natural inbound link profile, you're actually using tools to learn more about your own inbound link profile as well as the profile of your competition.
So you're getting world-class training and access to hands-on tools straight from Bruce Clay — all at your own desk.
Sounds expensive.
Now, return to real life. Ready for the good news? With the new online SEO Guide from Bruce Clay Inc., you can essentially have the learning experience mentioned above for free.
While Bruce won't physically be in the office with you, you will have a step-by-step course that walks you through his methodologies with free tools at your disposal.
What's Included in the Free SEO Guide
The new-and-improved SEO tutorial is an ethics-based online training course created to help marketers understand and apply industry best practices.
At 19,982 words, the course is deliberately thorough. Those new to search engine optimization are invited to read from beginning to end for an all-in-one ramp up. For those with more optimization experience, we've split the course up into 18 steps on individual pages to make it easy to navigate to the section most relevant to your needs.
New to this version of the tutorial are expanded lessons on technical SEO tips for structured data markup and mobile SEO and UX optimization.
Free Embedded Tools Make Learning Active
We believe in active learning and retention through engagement.
To close the gap between education and application, throughout this course we've included free tools that help you immediately put the skills you are learning into action.
18 sections is a lot of training; why wait until you're done with the tutorial to start applying the skills you're learning? Instead, this training system allows you to get hands-on while the ideas are still fresh, with light versions of our tools embedded at each appropriate step of the tutorial.
Throughout this course look for free tools that allow you to:
Get Started Strengthening Your SEO Core!
The Bruce Clay Inc. SEO Guide is live now. To get started with this foundations course, choose a chapter from the list below and jump in feet first.
Tell Us What You Think
We hope you enjoy this course as much as we've enjoyed making it. Please tell us what you think in the comments below.
Posted by Chelsea Adams on December 3rd, 2014 at 8:00 am
Still on the hunt for actionable tips and insights? Each of these
recent SEO posts
is better than the last!
Bruce Clay
on March 16, 2021
Bruce Clay
on March 14, 2021
Bruce Clay
on March 9, 2021
19 Replies to "New SEO Tutorial Encourages Active Learning"