Search and Social Conference Archives - Bruce Clay, Inc. Blog
December 18, 2017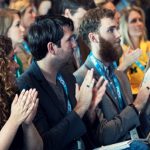 Digital marketing conferences are held all over the world, from Los Angeles to Beijing and everywhere in between. Thousands of SEOs, SEMs, content marketers, social media strategists and business owners attend marketing events for the whirlwind of information, education and networking.
Where else but a digital marketing conference can you learn from the likes of Gary Illyes, Purna Virji, Rand Fishkin, Larry Kim and Bruce Clay all in a single day? We've updated our Digital Marketing Conference Calendar for 2018 with more than 250 events worldwide so you can start planning your year ahead.
We've organized this massive list — 250+ digital marketing conferences! — in three ways. You can view events by regional location, by topic focus, or by month on a calendar that can also be downloaded. Whether you're looking for an in-person networking opportunity that's close to home or willing to travel around the world to find the perfect conference experience, this list will make it easy for you to find digital marketing events that fit the bill. Happy planning!
Read more of The Digital Marketing Conference Calendar: 250+ Events Around the World, Updated for 2018.
---
April 15, 2016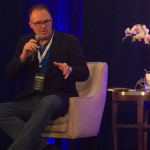 Search Engine Journal hosted an exclusive event limited to 150 digital marketers. The second annual SEJ Summit featured eight industry leaders from companies including Google, Microsoft, LinkedIn and Disney.
Several key themes that emerged from the exclusive day-long event in Santa Monica:
Think of your users as humans. You're not an SEO optimizing for a user, but a person optimizing for another human.
We live in a multiscreen world. You never know where someone will be interacting with your content. #ResponsiveDesign
Accelerated Mobile Pages (AMP) is gaining momentum and regardless of your industry you need to be ready to implement.
Read the full report!
---
May 8, 2015
Less than 90 tickets remain for Search Marketing Expo (SMX) Advanced 2015! If you're planning to register for the must-attend event, hurry — because it looks like it's about to sell out for the ninth year in a row. When registering, save 10 percent on all passes and workshops with our discount code: SMXA15BRUCECLAY.
If you're looking for next-level search marketing education and networking, this is the conference you don't want to miss. Industry elite gather here to share advanced technical knowledge and tactical tips for search engine optimization, paid search and social media marketing. I'll be on the scene liveblogging. Read on to see where you can meet Bruce during the conference and see our liveblog schedule.
---
March 24, 2014
This year Bruce Clay, Inc. writers Virginia Nussey and Chelsea Adams were able to attend 40% of the SMX West sessions offered March 11–13, 2014. From the sessions they attended, they were able to compile 24 live blog posts, and 30 actionable takeaways for anyone needing a quick hits summary of the event.
Continue on to read 30 Smart Online Marketing Tips From SMX West , and to add your own to the list in the comments section.
---
February 20, 2014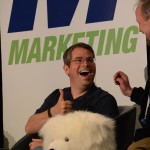 It can be lonely living in a world where the majority of folks immediately zone out when they hear the words "algorithm" or "Excel." It's hard trying to explain to your husband who Matt Cutts is and why he matters. And it can feel downright isolating always having to turn to online peers for strategy feedback because the people sitting around you have no idea what it is you do.
All that to say, there's real value in spending three whole days immersed in a world where everyone understands you.
For comic book fans it's Comic-Con; for roller derby girls it's RollerCon; for search marketing professionals it's industry events like SMX and PubCon.
Read Should You Attend a Search Marketing Conference in 2014? to learn more about why we think attending a search marketing conference is never a waste of time.
---
December 30, 2011
Day 3 of our "Best of Search Conferences 2011" is upon us, and this post wraps up the series here on our blog. Looking through the coverage, one thing we can say for certain is that there are a ton of enthusiastic, brilliant people in the search marketing community who have a passion for sharing ideas. Thanks to all of them, and special thanks to the conference producers who offer a vehicle for these people to share knowledge with the community. Today's Day 3 coverage is all about exploring thought-provoking topics in the areas of understanding your audience, holistic marketing, online reputation management and branding, plus cutting-edge topics from this year's search marketing events. And don't forget to check out Day 1 and Day 2 if you happened to miss them.
Read more of Best of Search Conferences 2011: Day 3.
---
September 29, 2011
Christi Olson joins us in this session and is director of marketing at Decide. She is going to talk about social search optimization. What is social search? It has layers and layers: Blended search: Paid search Social media Images News Etc. Real-time search: She is talking about Bing real-time search, and that's it's in beta. […]
---
Last day of Search and Social – boohoo. I feel like I just got here! This session welcomes Mike Valentine (@RealitySEO) from Reality SEO talking moving SEO forward. He is a former MySpacer and Demand Media staffer as well as SEO consultant He's going to talk about implementing SEO in client companies, the challenges and […]
---
September 28, 2011
Evan Fishkin (@eFishkin) is from SlingshotSEO says he's going to open up today's last session at Search and Social with a joke: "That's my father" [points to his father, Scott. They both smirk]. He is talking game mechanics today — why people want to participate in games and how marketers can get in on the opportunities […]
---
Ian Lurie (@PortentInt), founder of Portent Interactive in Seattle is up in this session. He is going to be talking about social media and votes and signals for ranking. For more, check out Ian's presentation slides. He starts with a story. Clients call you up and tell you that you're a genius because of fantastic rankings […]
---