SMX Advanced 2012 Archives - Bruce Clay, Inc. Blog
June 6, 2012

What's this techy session about? Here's the description on the agenda:
Using the pagination tag with optional parameters, sort orders, and filters. Are there still reasons to use robots.txt or noindex? Can a canonical tag really replace a 301? How do you keep your IIS=based site from infinite redirect loops when you canonicalize default page names? And what about rel=alternate href=lang? We'll go through the issues step by step so you can clear up the clutter on your site, maximize crawling and indexing, and eliminate duplicate content risks.
---

In this session, we've got a bevvy of presenters to talk about schema and authorship issues in the past year since its launch.
---
June 5, 2012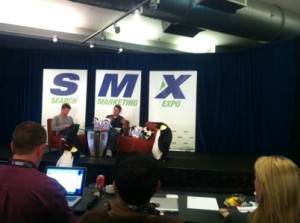 Matt McGee welcomes the packed room to our Q&A keynote with Matt Cutts who's going to answer all our questions of how to rank. Let's start with Penguin. Penguin to them isn't a penalty, it's a calibration of the algorithm. they found a lot of Web spam left after panda they wanted to take care of. Penalty is typically referred to when manual action is taken. Penguin does demote sites, but it's one of 200+ signals that rank sites. The word penalty isn't really used in the googolplex. They use "algorithmic" and "manual action". They can't put every algo up for all to see, but they are more transparent about how google works on the manual side. You pretty much always get notified in WMT if manual action was taken.
---

There are going to be a lot of tools here. Many are explained in a sentence. It might be hard to convey the real value of them. Use this as a starting point.
---

Danny Sullivan welcomes Marty Weintraub to the podium. First he thought of a snarky title that sounds like he's trying to game Google but Identity, Feeds and Social PR is where he landed. If you want to impact personalized search, the best thing to do is be personal.
---

Good morning SMX Advanced attendees and readers! Last night's Meet & Greet gave a fun, warm welcome to the conference. Can't say the same of this Seattle weather, which is living up to its reputation. There's also no warming up to the sessions, as we're jumping right in to hard core social marketing tactics.
---
May 21, 2012

At some point in every marketer's life, he or she must make the journey to the mecca of advanced search marketing events, SMX Advanced 2012 in Seattle. That time is upon us once again, and if you can't break away for your pilgrimage to the show in June, we've got your back. We've hand-selected some amazing sessions to report on and deliver to you straight from the show.
Tune into the blog on June 5 and June 6 to get in on the conference action. Follow us on Twitter (we might get some live-tweeting in as well) and the hashtag #SMX to stay up-to-date on tips and tactics from the event. And if you're attending the show, read on after the schedule for some more ways to connect with us while in Seattle.
Read more of SMX Advanced 2012 Liveblog Schedule and More .
---