June 2, 2008
The Monday Friday Recap
Okay, so my bad. I was far too ill on Friday to deliver my typical sidesplitting Friday Recap and instead spent the day sleeping. Until almost 4pm. But I'm better now and here to make amends! Before I take Virginia and jump on a plane to Seattle for SMX Advanced, how about a Monday Friday Recap to help kick start everyone's week? Sounds good, right? Let's go!
First, I have something I need to get off my chest. I absolutely hate Google's new favicon. There, I said it. What were they thinking?
Now a picture with zero explanation: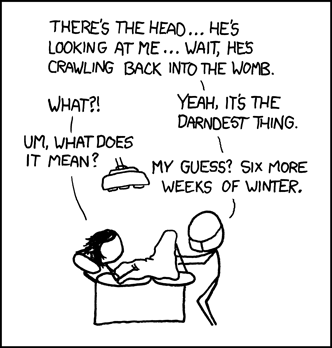 I'd also like to thank the Lessons In Social Advertising (LISA) conference for ensuring that I will never, ever rank first for my name. Jerks.
Onward SEO gave us a list of the Top 30 Cities to Earn a Big SEO Salary and it's very odd. All the big name cities you'd expect are listed, but somehow two locations in New Jersey made it into the top three. New Jersey? Ew. I'll take the lower paycheck with a side of clean air.
The Incremental Blogger gave us 10 Things We Can All Blame Robert Scoble For. Heh. Blaming Scoble for things is one of my favorite pastimes. I currently blame him for global warming, all the hungry babies around the world, my spilling coffee on myself this morning, and the flowers Jack threw up this morning. How about you?
North South Media delivered a follow up to its What If SEO/Search Had Action Figures post. In Part II, I get to be Catwoman. A purple Catwoman. Can't I be blue? [Why do you bait me with these sorts of thing? You know I'm going to have to explain to you all the costumes that Catwoman has had over the years and how none of them were blue.–Susan] I know. I like watching you head explode.
Neil Patel explains how to build influential relationships by insulting people. Ah, that Neil. Always so much fun.
If you do follow Neil's advice, know that most stabbings occur with a kitchen knife. So don't do your insulting there.
And because insulting people is fun, last week Rebecca Kelley took the entire SEOmoz community to task for digging their Web 2.0 Awards wrong. Next time you ask people for Diggs, make sure to include instructions.
Search Engine Journal explains that they'll be providing some sort of coverage for SMX Advanced. Or something. I wasn't listening. We all know the only coverage that matters is Bruce Clay's. Right, guys? Right?
[Reminder: If you don't want to hear about what's going on at SMX Advanced, subscribe to our News Only feed. You've been warned.]
The industry reverted back to middle school last week as Dave Naylor and Jaan Kanellis both held contests asking who the most attractive SEO is. Jann's contest even includes photos of the ladies. Nice.
This is completely unrelated to anything, but check out this Basic Physics Savvy Quiz. It will make you feel completely stupid in under .02 seconds. Kinematics, measurements, and molecules? Someone hold me. [I got a 70%! Lisa and Virginia didn't even finish. –Susan] Update: Virginia has since finished the quiz. She earned a 37.5 percent.
Things I Learned From Boing Boing This Last Week:
And that's it. Virginia and I are headed to Seattle in a bit while Susan stays back to think about what she's done (wo)man the office. Don't go joining Plurk while we're gone. It won't bring you anything but pain.
See you in Seattle!
---
---